UP COMING EVENTS
Need crew for the return leg or want to crew for the return leg, take a look at the Crew Available List.
If you would like to subscribe to our Offshore Email distribution list for newsletters,
---
NOTES
21 June - For those that might be curious Spadefoot is still reporting and traveling south at the moment.
2043 Carina finished. "We beat last race's time!" Last boat in! They were in a slip at the Newport YC by 2230.
0800 - Tyche emailed me. In response to my question verifying his withdrawal. "Yes, we withdrew. Had we not we'ed still be there!" Tyche due here around noon. Carina due to finish around 2100.
0436 Halcyon finished.
20 June - 2104 Panacea finished.
1850 Nimros finished.
1752 Corvus finished.
0935 Tyche emailed me. "Finally escaped the stream. If wind holds we'll see you Wed."
20 June - 0249 In Concert finished.
0158 Praire Gold finished.
0045 Aggressive finished.
19 June 1100 - Prairie Gold - "Aggressive and Prairie Gold just checked in. All is well on both vessels and we continue to push one another until R2."
2217 Cordelia finished
2148 Concussion finished
2143 Yankee Girl finished
2145 Dianthus finished
806 InReached me. "All ok on 806. Wet and bumpy ride at the moment. 78 miles to go, eta 7-8am Tuesday."
1800 - Concussion InReached me. "24 miles out. Dense fog. Tiger Shark still following. Spirits are good. Hopeful for a finish."

19 June - 1726 Upstart finished.
1449 Choucas finished.
1446 Gillett Children's Hospital finished.
1349 Seriana finished.
19 June 1331 - Concussion emailed me. "We are now being escorted in by USCG Cutter Tiger Shark. We are still under sail and intend to finish the race." emai
1024 Cordelia emailed me. "No contact on the radio this morning although we were close enough to hear Dianthus and Concussion conversing about their mast problem. They could not hear us. At 10 am Concussion seemed to have it under control and had a pod of dolphins as an escort. The Coast Guard is on way to stand by. Our summary of this trip: one blown out spinnaker, one blown out Code Zero, a life raft that tried to jump overboard when its cradle restraint ripped loose, and a torn outhaul on the main that requires a constant reef since the Gulf Stream. Just another day at the office.
Prairie Gold emailed me. "At 10:30am this morning Prairie Gold's assym spinn was shredded. Pieces were recovered and special offers on sailbags (red white and blue) can be placed at NYC upon our arrival."
Windswept emailed me. "This is definitely sports boat weather! It would be fun to watch Toothface or Inigo Montoya scream by, but they have probably already finished. I'll bet the minis are cranking up some impressive numbers. Windswept is hitting over nine knots at times. we are hand steering in half hour shifts as the autopilot is not up to the task, given the sea state and wind conditions. We could shorten sail and use the auto pilot, but what fun is that? If conditions persist, we should be finishing around noon tomorrow."
19 June 0800 - Trouble No Trouble emailed me. "TNT831 is sailing along and enjoying this beautiful reach back to Newport. Reeves has finished his copy of War and Peace and expects to complete The House of Usher if we keep up our current rate. He has also finished his initial patent work on a new way to prevent "Rumpy" using paper towels, duct tape bilge sponges. That boy is going to be a millionaire someday. All is well here and we hope your week is shaping up to be a good one."
0746 - Breakaway finished.
0825 - Barcanova finished
0830 - Soarus finished
Prairie Gold emailed me. "Just noticed the time and forgot to monitor for the 7am call. We have been flying a small assym kite since 6pm last night and we are spending a lot of time trimming to keep at hull speed and not to blow a panel. All is well here, although our fresh provisions from Bermuda needed to be discarded because they went off quickly. But we have eggs, bacon and freeze dried fuel. Looking forward to seeing you later."
Bluebird emailed me. "Bluebird Report 40:02N 69:58W. Winds 20K Making 8-9 K with spinnaker. Crew tired, but moving along in the right direction. Hope to be in Newport late tonight!"
Tyche emailed me. "Tyche withdrew at 6. 45. 4.5 current on nose. Big seas."
19 June 0620 - Upstart called in that Concussion has put out a Pan Pan. There is something wrong with his mast, reducing power and trying to limp into Newport. Concussion is in contact with some unknown vessel. The Coast Guard Woods Hole is aware of the situation.
0645 - Dianthus called in also about Concussion. He is coming up from behind Concussion. "Mast is splitting at the partners"?
0655 - Choucas called in that he had heard Pan Pan from Concussion also. Reported winds 22 kts out of 220 degrees, was 25 kts. Foggy, 63 nm out.
0739 - Upstart emailed me on Concussion. "He told Dianthus to keep racing. CG has dispached a cutter. He is attempting a jury rig"
0755 - Concussion emailed me. "Uscg estimates 10 hours to intercept. We have designs on finishing the race. & The mast split at the exit hole for the instrument package. & We've lashed the mast with about 50' of dynema and coated it with west 610 epoxy. Dr. Ireland's fantastic idea to make a cast. Hopefully it will set. & Spirits are good. Splint is holding. Single reef main only. Trying to get over to the rhumb line before attempting a straight shot in. & We have a dolphin escort. 78 miles out."
19 June 0447 - Kiwi Spirit 2 finished.
Breakaway called in. Blew out the spinnaker. Under genoa and main. 20 kts @ 215 degrees.
806 emailed me. "Mon am. All ok on 806 after a very cold night, making good progress. 180 nm miles to finish. Eta around 8am Tuesday at present rate of progress,
19 June 0200 - Concussion emailed me. "Spinnaker shredded. Will fly main only until daylight." Another spinnaker bites the dust. Kiwi Spirit 2 expected to finish around 0415.
18 June 2013 - J Hawk finished. Next boat around 0400 tomorrow morning.
Prairie Gold emailed me. "I feel like land is within grasp, then I look at the charts :) Not in VHF range of anyone tonight for the call in - maybe we are going to different Newports"
Upstart emailed me. "Spoke with Concussion at 7 and all is well. No other contacts".
Trouble No Trouble emailed me. "We were very excited to hear that dragon and toothface were taking hot showers and eating giant medium rare steaks.... oh, and then they came in and had dinner. Well, let me tell you that there's nothing like a lumpy freeze dried beef stroganoff! Especially when the jetboil singes your eyebrows. We are having a wonderful time on the teeny tiny version of a Class 40. Although we only get cold showers, low freeboard and all. TNT 250 miles from Newport. And having fun."
Concussino emailed me. "Spoke with Upstart. It's a beautiful day, and we are both happy to be out of a head current. All are well. Repaired spinnaker is holding."
18 June 1700 - Upstart emailed me. "Sunday 4.40pm all is well on UPSTART"
Perseverance indirectly via Bonnie Van Slyke. He asked me to report to you that all is well. They are creeping along with no wind. He also said hand-steering has been exceptionally difficult. He said that "the people with autopilots don't know how good they have it." They have had no incidents, nothing breaking, and the Gulf Steam was a nonevent--set them off a few mikes but that was expected. They are alone--have not seen anyone nor heard radio traffic.
18 June 1500 - Concussion InReached me. "Nice day in the North Atlantic. Patched up the big chute (we call her big Betty) did a Spinnaker peel. With the big girl up, we are high fiving on Concussion"
Windswept emailed me. "There was no traffic on either VHF or SSB this morning. I guess everyone was sleeping in. We are out of the GS and heading for the barn with about 265 miles to go. The Boston coastal weather report calls for 10-15 knot SW winds for the next several days. Right now we have about 5-8 knots from the WSW and are making about 6 knots through the water thanks to Big Red. We are just passing what appears to be the Norwegian Dawn on it's way back to Bermuda.....brings back memories!"
18 June - Prairie Gold emailed me. "Rudy and I have been chasing up the tail end of fleet 3 being close to Aggressive overnight. We have been in the GS for several hours now with schools of dolphins. Freeze dried ice cream will be prepared to celebrate returning to the cold waters of the north when we exit the stream."
1021 Inigo Montoya finished. Nice tight grouping for the first 3 boats.
1012 Toothface 2 finished with Inigo Montoya not far behind.
Dragon finished about 1000. First boat to finish.
Cordelia emailed me. :All by our lonesome now with no one else on the comm. Wind totally died last night. We even lowered the main and napped for an hour and a half. We have about 8 knots now out of the SW. Nice day...could use more wind, but we can at least also sail the rhumbline."

Corvus called in. No VHF contact with anyone. Repair in Bermuda didn't hold so sailing on main and staysail only; going slow. Fine however.
Barcanova emailed me. "we enjoyed a pleasant night sailing in a lumpy but mild southerly. Barcanova has the laundry out in anticipation of a more exciting night. Currently we're about 180 miles out and estimate we'll arrive at the finish about 0800 tomorrow morning. Rested and ready for the wind to build!"
18 June - When the boats get inside of 20nm their update rate goes to 15 minutes.
18 June 0800 - Looks like the first 3 boats will be finishing before noon, maybe around 1000.
Breakaway called in. Hasn't heard from anyone but in nice conditions.
Tyche InReached me. "Good morning. Easy night except shower on Gerry's watch. Contactec P. Mccrea. Alls well. 6kt wind and smooth sea. Cheers"
806 InReached me. "Sun am. All is well on 806. Crossing the Gulf Stream. Benign conditions but some counter current so we haven't nailed where we wanted to cross. No other boats in sight, vhf range or showing on AIS. No Dolphin sightings so far, hope we encounter some."
Choucas emailed me. "Had a three way chat with Gillette Children and Concussion. Talks of spinnaker wraps and frustration GS crossing in light air. But all seems fine aboard the vessels."
Bluebird emailed me. "Greetings from Bluebird, and Happy Father"s Day! We had an interesting night in the Gulf Stream, with some nice showers washing the boat, some lightning, , then slow dying of the wind, not in our forecast! We are in the cooler green-gray waters of the Atlantic, moving slowly but at least out of the negative current and pointing towards Newport. May the SW breeze fill in!
Trouble No Trouble emailed me. "TNT had a nice evening. We are happy with our progress even though we lost the code zero and all furling headsails.
Reeves got hit in the face by a flying fish. No physical injuries but his ego was pretty bruised when he realized that a fish out of water had better VMG than he did.
17 June 2000 - Concussion InReached me. "37 21 | 67 29. In the stream. H2O temp 80.1. about 12° of crab angle. Looks like weather on the horizon."
806 InReached me. "Evening check in. All is well n 806, even calm enough to have a salt water wash down on the aft sun deck this evenoing!!!"
Cordelia emailed me. "Talked with Dianthus, In Concert and Concussion. Concussion blew out a couple of sails today but all is well with everyone. Beautiful day and gorgeous sailing. Wind SSE at 10 - 15.
We had an adventure today on Cordelia. We were jibing when a preventer line on the mainsail boom got caught on an ear of the mount for our emergency life raft, which is on deck and in a big fiberglass canister. The ear is a turning point for the cable that holds the raft on. It bent the ear, the boat was heeling and the canister came out of its mounting cradle, careened onto the deck, and slid to the side rail and stopped! If it had gone overboard, it would still have been attached to the boat by its inflation cable. I assume it would have popped open and inflated and we would have been towing an inflated life raft. Lord knows what we would have done then. Can't retrieve it and reuse it, so we probably would have had to stop and sink it. As it was, we had it on the rail. I dashed up and stuck my leg between it and the lifelines so it would not slip overboard. Gail got a line and we made a netting between the rail and the lifelines so it could not slip through then or when we tried to hoist it back in place. We did get it back in place and all secured. So no harm, no foul. Just another day at the office.
We are entering the Gulf Stream as I type, at 1900 Saturday night. Wish we could head more westerly but the wind angle won't allow it without a huge reduction in our speed. Oh well. All for now.
Dianthus called in. Put his spinnaker up 3 times today. In Concert is having furling problems. Cordelia doing fine in front.
Trouble No Trouble emailed me. "Fun day of sailing out here. Saw Nimros a few times came within a few hundred yards no one on deck to wave to today. We started heading westward and assume they are staying the eastern track. Great wind!!!"
Prairie Gold emailed me. "Aggressive and Prairie Gold were just in VHF contact. All is well on both vessels. We have had no contact with the rest of the fleet who we assume is well ahead of us."
Barcanova emailed me. "Just made it across the Stream. A wild ride! 25-30kts and the usual big seas. We survived without any major problems other than a few miles round ups and look forward to some mild reaching tonight. No contact with anyone for 24hrs. We did almost 249 miles yesterday and Del ripped a 17.2 kt ride."
Upstart emailed me. "Life is good on Upstart at 6pm Saturday"
17 June 1400 - Toothface 2 emaild me. "ALL IS WELL ON BOARD. DESPERATELY MISSED A HEAVY AIR RUNNING SPINNAKER LAST NIGHT. DRAGON DID A JOB ON US SAILING LOWER AND FASTER. YOU CANT CARRY EVERY SAIL FOR EVERY CONDITION! WE HAD THE WRONG SET OF TIRES FOR THIS RACE TRACK. GOING WELL NOW AND LOOKING FORWARD TO SEEING MY WIFE AND FAMILY SOME TIME TMRW. POURING RAIN OUT HERE...WELCOME BACK TO NEW ENGLAND! CHEERS, T FROM TF2
Upstart emailed me. "11.50 on Saturday and all is well on Upstart"
J Hawk emailed me. "doing ok out here. Got chute wrapped around head stay around 11 last Night, took 7 hours to get it secured around headstay with no flapping or little hourglass filled with air (could not get it down and proceedibg with it wrapped on headstay). Have used all available halyards to secure it, so if I cannot retrieve one of those just mainsail from here. We are fine."
Tyche InReached me. "Wing + wing in 8 – 10kt wind doing 6+. All is well.
Concussion InReached me. "36 39 | 67 04. We've been up a Spinnaker and battled with a few wraps. We've resigned, for now, to just a main sail." Sounds familiar. Then another one "blownup".
Breakaway called in. Heavy seas going downwind; good but also bad. Moving right along.
17 June 1000 - Windswept emailed me. No traffic on VHF or SSB. We crossed within a dozen yards of Prairie Gold last night. Thanks to AIS it was not the white knuckle experience it could have been. We are currently driving down wind in a lumpy sea. The randomness of the waves confuses the autopilot to the point that we have been hand steering since dawn. We hope to be at the GS entry point by the end of the day.
17 June 0800 - For those curious about why some boats aren't being tracked; Team Wichard is being shipped back due to the crack in the keel box; the designer recommended not sailing. Strummer is sailing to the Azores probably Sunday. Pocket Rocket started but had to return to St. Georges due to keel problem is being shipped home also.
Trouble No Trouble emailed me. "All is well. Managing power. "
Tyche InReached me. "Had an uneventful night and a good run with 10kt winds. All is well."
806 emailed me. "All is well on 806. We had had enough fun with spinnaker for one evening and decided to take it down at midnight as the concentration needed was getting tough in the dark. 20 knots of breeze still kept us moving along nicely all night. No comms with anyone else though Corvus was visible on AIS during the evening."
Cordelia emailed me. "It's a beautiful morning out here with winds SSE at 15+ knots and continuing to clock. Made contact with both Dianthus and In Concert. Everyone is well and enjoying the day. Yesterday In Concert blew out her Code 0 while Cordelia blew out her Asym. Neither has a spare, and with the winds aft of the beam, we are not pleased (although Dainthus is). We should hit the stream late today. All for now. Fair Winds."
Prairie Gold emailed me. "All is well on Prairie Gold, We had a great night of sailing with the assym flying for most of the night to see if we could catch some boats after lagging yesterday. We have no idea where we stand in the fleet but are enjoying the conditions."
Dragon called in. No one to talk to! Winds 20 knots at 142 degrees.
16 June 2300 - Just got home!
Trouble No Trouble emailed me. "Aside from our spin pole losing both furlers and outhauls, and our code zero exploding unspectacular fashion, we are having a great time! See you in Newport!"
Barcanova emailed me. "All's well here on Barcanova. We're at N 34 57 W 065 35 heading straight to Newport at about 9 knots I'm a very pleasant southeasterly. Haven't seen anybody since we emerged from the glassy slatfest at about 0600 this morning. Some hard reaching with various spins in the morning but a slight aft shift has calmed things down here. Champaign sailing! "
Cordelia emailed me in response to his saying TnT was headed back to Bermuda. "oh, crap! u r correct. I even wrote it in my log. Here i am trying to keep you informed and screwing it up. Sorry. At least you already knew."
Choucas emailed me. "I have been sailing with a group of three boats within AIS signal. Gillette Children, Concussion and Seriana. All is well with these boats."
Windswept emailed me. "No traffic on either VHF or SSB. I guess I am in my own private Idaho once more. We had been cruising with Blue Bird this morning, but he gave us the slip in some light air. The winds are now 10 to 15 knots from the ENE and we are making 7+ knots over the ground through a lumpy confused sea."
806 emailed me. "glad you are getting my messages. All is well on 806. The sea has calmed down and we are literally humming along having some fun surfing with the spinnaker up. 806 hums when she planes. We had a text from TnT earlier in the day that all is well although they are out of vhf range. We have one other boat within sight but are not sure which one. Did Pocket Rocket get into Bermuda safely ? Cheers,"
16 June 1300 - Pocket Rocket made it back to St George's and is docked. He has retired and will ship the boat back ala Team Wichard.
16 June 0800 - Further information on Pocket Rocket, he had a similar problem with his keel to when he finished the first leg. He was able to stabilize the keel and headed back to Bermuda not requiring any assistance.
Upstart emailed me. 7am wind has filled in and all is well with upstart, choucas, concussion, and barcanova.
Dragon called in. 18-22 knots from 094 and they are flying. Deep beam reach with beam seas so very wet ride. He heard from Toothface and J Hawk who are both doing fine.
Cordelia emailed me. "June 16 AM Comm heard from Dianthus, Prairie Gold and In Concert. Also heard conversations between Concussion, Corvus and Panacea. Aggressive was in sight on the AIS. All is well. Not of a fun night of very light winds out of WNW (4-8 kts), which dropped to almost zero this AM. Lots of flogging and banging - even went backwards for a spell. Tried the Code 0 and got a good couple of hours out of it before a squall came through. After that the wind filled back in from the NE at 8-10, juggling things up a bit, putting leeward boats to windward. We seem to be in a warm eddy that showed on the charts with about 0.5 kts unfavorable. Of note, last night at 2045 Trouble No Trouble called 806 with a leaking keel box (I believe). His position was 33d 10.10 N 64d 29.524 W. After speaking to several boats, and assessing his situation, they called in a pan pan to Bermuda radio and began heading back." (Editor's note: Cordelia evidently is mistaking TNT for Pocket Rocket who turned back last night not TNT)
806 emailed me. "Good Morning Roy. All is well on 806. No contact with Trouble No Trouble this am. Last VHF contact before being out of range with Pocket Rocket was 22:00 last night. They reported situation stable making 4.5 knots towards Bermuda. Spoke with Yankee Girl this am. All good with hin. No wind here."
Trouble No Trouble emailed me. "TNT is doing well. Sitting in a hole devoid of wind. About 60Nm from Bermuda. Nimros and 3 other boats are near us."
Choucas emailed me. "All is well with the Class2. The only boat that did not came up on the VHF is Perseverance.. they must be going at their own pace."
Corvus called in. Reported in around 1830 and said he was having mechanical; problemswith his furling so he is under main and staysail.
Dianthus called in. Reported he talked to Cordelia who had a blown spinnaker, and In Concert who blew his code 0.
Prairie Gold called in and reported all ok.
15 June 2100 - Pocket Rocket emailed me that he is returning to Bermuda unassisted. Keel problems. 806 has been communicating with him.
Halcyon looks like it is back on its way to Newport.
15 June 1900 - Concussion InReached me. "7:05pm est. 32 59| 64 38. Gillette's is in front of me a few miles, Yankee Girl is to the west. Nice evening. Wind is about 9-10. Seas are choppy."
Pocket Rocket "Hi Roy, marcus from Pocket Rocket. Just wanted to check in from my inReach. All good here."
Upstart texted me. "Upstart reporting all is well with choucas serina breakaway concussion gillette and barcenova."
Cordelia emailed me. "Great sailing this afternoon and early evening. Winds are 10 -12 knots NW. Heard from Aggressive, Prairie Gold, Dianthus, and In Concert as well as Perseverance and Panacea. All is well with everyone. No issues and all is well."
Windswept emailed me. "I have Panacea, Yankee Girl, and Bluebird in sight. No report from Yankee Girl or Bluebird. Panacea reports that all is well. He also was in contact with Carina and reports all is well. No news from Nimros.
Just after rounding Kitchen Shoals, it appeared on my AIS that both Corvus and Tyche had turned back towards Bermuda. Have they retired from the race? (Note, NO) The weather predictions were about as wrong as possible. Instead of a beam/ broad reach, we are once again hard on the wind. At least the wind is manageable at 6-10 knots. Time for dinner."
Dragon called. Spoke with Toothface2, J Hawk, Solarus and Inigo Montoya. Wind about 10 kts N looks like shifting to the East.
806 emailed me. "806 reporting in that all is well in the Mini Fleet. No problems to report on any of the 3 boats as of the 19:00 chat schedule on the 15th. We're seeing 5-10 knots of breeze with quite a confused sea. Tony."
15 June - Tyche InReached me. "Nice sailing with 8 apparent and it's swinging gradually to the west. We are doing 350. Need 335."
Concussion InReached me. "Hello, Roy! This is Concussion. The wind is about 6kts out here, but the sun is out and it is a beautiful day!"
15 June - you will notice that there are emails now from InReach boats. I discovered that InReach for some reason this year is not getting there messages to my email address. They changed to a different email address and I am now receiving the InReach messages. I was wondering why I wasn't receiving any messages from those boats. Felt not wanted!
15 June - And they are off. The classes started at 0900 however in about reverse order this time. Class 4, Class 6, Class 3, Class 2, Class 1. Wonderful time minus the short rain shower we had; not supposed to rain on the Race Committee. A J boat and several high speed ferries vied for the Cut space with the fleet. All went well however Halcyon is headed back. A repair to the back stay needs a little mod. Halcyon is anchored waiting for Vernon Hultzer to help out. Alan Oatley and his daughter Julian provided the boat and manpower as well as Eric Johnson and Fred Green.
14 June - The weather brief was provided by Gary Hall and Jen Smith of Bermuda Weather Service. I finished off with the specifics for the race. Next, all had to go through customs. We start 0900 EDT tomorrow.
13 June - Gosling's provided a taste period of their various rums and sold bottles for duty free service which would be dropped off here tomorrow. Followed the Awards or as they say here Prize Giving. The Mayor the Honorably Quinell Francis, Bermuda Tourism Office representative Daniel Johnson and Commodore Lacy Rance were all present for the Pirze Giving. The trophies were handed out, pictures were taken of all the singlehanded skippers and then we meandered outside to pickup our steaks and ate in the lower level. Finished the evening with music by a DJ on the main level. Nice evening.
12 June - Lay day. Some of us checked out a different restaurant down near St David's, Gombey. Watched the first attempt at an AC race; abandoned due to lack of wind, like zero. Another group went to the Tempest restaurant for the evening meal. This use to be the Carriage House back several years; maybe more.
11 June - Big time rain to about 2pm. Much needed rain for Bermuda. People were watching the AC races when I arrived. Tristan had bought a bunch of sandwich food and hot dogs and was feeding the crowd. For the evening we had an open grill (propane) and a bunch of us cooked their own food, cooking in groups, and ate up on the deck. Afterwards a group went on Mike Schum's boat In Concert, a Saga 409. Nice. People were sharing drinks; wine, scotches, whiskey, etc. Tomorrow is kind of a down day. Nothing scheduled.
10 June - A group of us took a ferry from St. George's to the Dockyard to visit the America's Cup Village and watch the three races held that day; Team Newzland 2 Artemis 1. Later the Dinghy club held a Dark & Stormy party for us and Brenda cooked up a Fish Fry with delicious fish, rice, salad and apple pie desert.
9 June 1700 - The St. George's Dinghy & Sports Club put on a cocktail party where the member provided various foods; pot luck stile. Many thanks to the members for doing that. Also would like to thank Susan who has been doing all kinds of errands for the race. Thanks to Tina for doing errands also. Thanks to John Andersen (Upstart crew) and land crew Fred for their dedicated work in helping boats dock both at the Customs dock and the Dinghy Club and moving boats around at the Town Dock. Thanks to Dan Alanso for providing his big dinghy to ferry people and support docking the boats at the Dinghy Club. Also thanks to Tristan for maning the dinghy a lot and directing boats in docking. Also thanks to the various skipper and crew that have helped docking the boats which isn't easy at the Dinghy Club.
9 June 1300 - both Carina and Strummer came into the harbor. Carina was put rafted outside of In Concert on the wooden dock and Strummer anchored.
9 June 0845 - Carina has withdrawn and is motoring in. Strummer had withdrawn.
8 June - Only two boats left out there; Strummer and Carina due in the morning.
2017 - Corvus reported finishing! Finished faster than it looked like it would take. He was taken under two after finishing and was put on a mooring after going through customs.
Tyche withdrew and is at the main dock.
1901 - Nimros finished. Nimros had to be towed by Tyche because the motor wouldn't start and the genoa wouldn't furl or come down! However the genoa problem was fixed while under tow. After going through customs Nimros was brought along side of Halcyon for the night.
8 June 1940 - Nimros hailed us that he could not furl the genoa nor take it down. This was after finishing.
8 June 1800 - Instead of having our Swizzle party at the Swizzle Inn Brenda, Lacey and their crew put on a meal for us and Brenda's Famous Swizzle on the deck of the St. George's Dinghy & Sport
8 June 1630 - Trouble No Trouble motored by the Dinghy Club and docked at 1740 at the Club.
8 June 1534 - Trouble No Trouble finished.
8 June 1530 - Perseverance arrived at the Dinghy Club dock.
8 June 1400 - Most of the boats that were on moorings, anchored or docked at the town beach moved over to the Dinghy Club for berthing as the winds died down for today.
8 June 1137 - Trouble No Trouble email. A message from Trouble No TRouble. He is good, and will hopefully be here this evening.
8 June 0630 - Winds have calmed down quite a bit. Trouble No Trouble emailed. "Hi guys. I picture you with cold brews in your hands right now. I'm about 12 0 Nm our and anticipate a 4 am arrival if all holds Hope you are well. All is well with me. " He must have read his instruments wrong because at 0600 update he was 27 nm out and he is way east and has to tack to get to Bermuda. At least another 3 hours to his finish.
7 June 2043 - Preliminary results posted.
7 June 2000 - Corvus has a problem with his motor so it isn't running and thus can't charge the batteries. He also was unable to sail for a while. His forestay let loose however he has corrected that to some extent and is sailing under staysail and only moving at less than 2 kts. Nimros is staying with Corvus to keep him company and encouragement to get down to Bermuda where he can be towed in. Bermuda Harbor Radio is also monitoring the scenario.
On another note it has been crazy here with gale force winds at times and trying to find places for the boats to stay. Stern to a the fixed dock isn't an option with these winds so we have a bunch of boats in the marina basin and a bunch down town at the town docks, one on a mooring and a few anchored.
Windswept is approaching the finish line some what soon. No one near after that.
7 June -
1919 - 806 finished.
1659 - Melantho 2 finished.
1457 - In Concert finished.
1445 - Pocket Rocket finished. He lost his controls for the canting keel and called for a tow to the Customs dock.
1437 - Dianthus finished.
1424 - Panacea finished.
1345 Team Wichard finished. Team Wichard was not able to sail into the harbor and required a tow by BYS.
1250?? - Prairie Gold finished.
0823 - Halcyon finished. Very windy here now. We have been very busy trying to get the boats in protected area.
0759 - Solarus finished.
0617 - Concussion finished.
7 June 0630 - Team Wichard emailed me. Trouble No Trouble emailed, said all was good. Brian was more concerned about my keel issue. He said he will be in Bermuda Thursday morning, and all was well. 806 contacted me via email. He was worried about the rough conditions, and the slamming of the boat. He said he saw Pocket Rocket yesterday, who was higher and faster. I spoke to Pocket Rocket via VHF. He is 8nm behind me, and is doing well. All good on Team Wichard. I'm about 27nm from Bermuda. Still keeping a what on my situation. It has gotten only a small bit worse, so it is manageable, with just a small amount of water seeping in. See you around 11am.
806 emailed me. my eta looking like late afternoon today. Last couple of days were tough. Will be glad to get in and start drying out. Tony on 806.
7 June 0617 - Concussion finished.
0530 - Aggressive seems to be missing his propeller! Yankee girl has offered to help him in and is towing Aggressive into the harbor to anchor. All skippers are extremely tired! Boats that have finished since just before midnight are anchored or are preparing to anchor.
0529 - Yankee Girl finished.
0516 - Upstart finished.
0457 - Aggressive finished.
7 June 0416 - Concussion complaining about having to avoid 2 cruise ships keeping him from getting to the finish!
7 June 0354 - Cordelia finished.
0151 - Seriana finished.
0133 - Barcanova finished.
0105 - Gillett Children's Hospital finshed.
0055 - Choucas finished.
6 June 2023 - Breakaway finished and is anchoring in the harbor; wiped.
6 June 1836 - J Hawk finished and is inside at the Dinghy Club.
6 June 1900 - J Hawk called in that he is 2 nm from the finish.
Team Wichard emailed me. I heard from Trouble No Trouble via email. He was hove too for a while, to sleep, as his autopilot, could not handle the conditions. Brian is in good spirits as usual. Pocket Rocket called via VHF. He had trouble with both of his autopilots, but has one of them working again. Says he has had a rough time. Team Wichard is doing well. 108nm to go. My cracked keel box, and keel movement, is a constant concern and focus. I spoke to Dan from Halcyon, we are in constant contact. I should arrive in Bermuda in less than 24 hours.
6 June 1500 - Dragon finished but I don't have his time. He came by us and is waiting to get to customs.
Corvus called this morning. He reported problems with his furling as his furling line broke. He is also having engine problems which limit his charging ability. 26 kts from 220 degrees with a double reefed main and staysail.
6 June 1345 - We now have both Toothface and Inigo Montoya here at the Dinghy Club. Dragon isn't far behind.
Bluebird emailed me. "Winds peaked 30 K at noon today, big rolly seas, lots of crashing and bashing. Bluebird secure with staysail, double reefed main, running back stays. ? 115 mm or so to Bermuda-ready to get there! Still 2K opposing current. No radio or visual contact with any boats."
Prairie Gold email. "Prairie Gold checked in. Heavy wind means he's a quart low on sleep, but the jury-rigged genoa cart is holding and all is well."
Gillett Children's Hospital emailed me. "Not as much fun out here as you may be thinking :)"
6 June 1145 - Team Wichard emailed me. "Just checking in. The crack in my keel box, is a little worse. I'm not taking on water, but I am watching it closely. I have spoken to Dan on Halcyon, we are texting every 30 mins, to stay in touch. Seas and wind are as bad as ever, I'm hoping the forecast is right, that at 4pm, it backs off a bit, and turns more to the west."
6 June 09:39 Toothface - first boat to finish. Came in with full sail fying into the harbor to take down his sails and waited over an hour for customs. Inigo Montoya is the next boat to arrive.
Windswept emailed me. winds SW @ 28-35 kts. I am about 150 miles out. Running with blade jib only into steadily increasing seas. Will be tacking onto Port tack shortly. Hope to finish tomorrow. Had some auto pilot issues which I believe to be resolved. No news from fleet. All is well aboard except that I am running low on meatloaf and chili! This will be my last report unless situations change. I have discovered SSB radio plays hell with my instruments....especially the autopilot."
6 June 0600 - Team Wichard emaild me. "A true battle out here. The conditions are just not getting any easier.
I'm closely watching the crack in the keel. I've made marks, to track it's progression. I heard from Trouble No Trouble via email. He is ok."
Yankee Girl emailed me. "Still pretty punchy out here.Gonna be a long, slow uphill slog to the finish."
6 June 0400 - Team Wichard emailed me. "Just checking in, it's 3:45am.
I have 25-30knots, on the nose. I' m making good headway. The crack in the keel box, has not gotten any worse, which is goods news, but there is still a lot of movement. No water leaking in either. My ETA in Bermuda, should be around noon tomorrow (Wed) I/m 176nm out."
5 June 2000 - Yankee Girl emailed me. I had just informed him that Justin had been picked up by Solarus and fine. "Been a bouncy day out here, even tough on a heavy boat like mine. The waves were steep and choppy because there was 2kts of current headed NW hear and a wind from the west. Wind against current makes it much worse. My laptop with 2/3rd of a working screen appears to be hanging in. Any chance you've heard of good computer repair in bermuda?"
Dragon called in. Doing fine. Talked to J Hawk.
Corvus called in. Fine also. Hadn't talked to anyone.
In Concert called in. Took two hitches to the west which set him back. Wind 14 kts SW with 8-10 ft seas.
Prairie Gold shore crew sent email. "This is Phil's shore crew checking in. His computer died so he can't make direct contact but he has his route plotted on his iPad and nav system. His genoa cart fix is holding and all is well."
5 June 1900 - Team Wichard emailed me. "Brian and Tony checked in via email. They are both doing well. Despite my cracked keel box, all is good."
5 June 1800 - Justin had to abandon Spadefoot and is safe on Solarus. Justin was very worried about the keel falling off. Very lumpy conditions. Solarus had contacted me earlier saying that Justin was worried about his boat so both Concussion and Solarus were shadowing him then Justin decided to abandon the boat and got in his life raft and was picked up by Solarus. Been a tense few hours.
Team Wichard on another note emailed me that he has discovered a crack on his keel box. He is monitoring it and decreasing his speed but continuing to Bermuda since it is the closest place to go and didn't want to chance the Gulf Stream. I informed him of the boats around him. He feels he can make it to Bermuda.
5 June 1730 - Windswept emailed me. "All is well. wind SW @15-25, lumpy seas. no news from fleet. too rough to type!"
5 June 0800 - Team Wichard emailed me. A tough night beating into bumpy seas, and a 1 knots current against me. All well on board Team Wichard. Trouble No Trouble checked in, to say all is well, and beating into choppy seas. I have not been able to hail Pocket Rocket, or 806.
J Hawk emailed me. "Just spoke to Toothface... about 4 mikes away but he was breaking up.., something wrong with one of our radios. Anyway, all good with him and on board here. Be an interesting day of shifting winds. Right now breeze is 200 at 6 knots. I am steering 130, going 4.5."
Dragon called in. 6-10 kts wind from 184.
Cordelia called in. In good shape, wind 15 kts Spoke with Aggressive and Prairie Gold, both doing well. Spoke with Melantho2, doing fine but can only charge batteries on port, so if you see him on a funny tack, that's why.
In Concert called in. wind 14 kts from SW. Overslept a little and is farther east than planned.
Choucas emailed in. "Heard from Spadefoot, Concussion, Breakaway and Solaris (class1). Nothing technical to report
We all reported seeing dolphins, Portuguese man of war and flying fish on deck. We must be all going to Bermuda!
Yankee Girl emailed in. "I haven't heard from my class 4 competitors for a few days but I have spoken to Halcyon yesterday morning and Cordelia the day before that. Friday night, just before sunset, I was downwind of Concussion when a squall rolled through. I watched him get rounded up and thought I'd be able to avoid that by heading off but the gust peaked at 36kts and I rounded up as well and got my share of flogging sails. That's the same squall that damaged Cordelia and Flying Turtle. It made for some dramatic lighting and I got a few good picks from before and after. Looks like it will be an upwind slog to the finish but the boat is sailing well. I did loose my masthead tri-light and my engine driven refrigeration. But the deck level nav lights are working as is the masthead anchor light and I'll just have to suffer through warm beverages for another 2 days. Hopefully I can repair these small issues in Bermuda.
5 June 0615 - Toothface emailed me. "250 upwind battle in light air vs a 43 foot jboat...this outta be fun... Come on big westerly!!"
Prairie Gold emailed me. "At 11:30 pm EDT Sunday 6/4 my port side genoa car disintegrated. I have fashioned a repair with a sturdy snatch block. I will shorten sail to reduce load and am enthusiastic about the repair. I have called Roy by VHF on Cordelia and have apprised him of the situation. I continue to Bermuda. My current position is 36.30N 68.43W. COG 200M, 5.5Kts SOG. I thought I should make you aware. I will continue to monitor."
4 June 2000 - Team Wichard emailed me. "A good day on the race course. Perfect weather and great sailing. Winds on the beam and just forward. Very variable, and a lot of work, to choose the right sail configurations and trim. There is a lot of sea grass. I'm out of the Gulf Stream. I received email from Trouble No Trouble and 806. Both are well, and in good spirits. I was unable to hail Pocket Rocket on VHF this evening.
Choucas emailed me. It was a really chatty evening on the VHF. In class 2, heard from Concussion and Spadefoot but also Solarus and Dragon class 1. Dragon was mentioning that J-Hawk might have some autopilot problem. Talked to InConcert as well and told me his grounding story that actually un-stuck his steering that was jammed. Only Mike can have stories like that! Everybody seems quite happy to be on this side of the stream. It is calm and indeed great to have passed the half way mark."
In Concert called in. Spoke with Dianthus who is fine but has no Sat Phone for contact. Spoke with Halcyon who is fine, winds 10 kts, seas 1-2 ft, maybe 2-4', wind 270 true. Mike was telling Kristen about his adventure with Goat Island to which Kristen said she knew. Then he mentioned Scallywag returning due to autopilot problems to which Kristen said she knew. Mike's response was how did you know those things! :)
Dragon called in. Mike very frustrated. No wind in the morning and now light winds; about 3.5 kts true from 250-80 true. Talked to Solarus who has J Hawk right behind him. He also spoke with Spadefoot who is about 11 miles behind Dragon. Mike says that everyone is saying that the Gulf Stream is no where as strong as predicted.
Breakaway called in. Doing fine. Light winds now, 5 kts out of 280. Small rip in his spinnaker due to a wrap. No contact with any other boats.
Cordelia called in. Roy2 spoke with Aggressive, Prairie Gold, Melantho 2, winds slacking, west 8-10kts, boat speed 2.4 kts, had bacon cheeseburger for dinner. Prairie gold had peanut butter sandwich and Oreos. Now we are into good stuff! RHG
Windswept emailed. You are probably in a silver bird overhead as I write this! As they say, nothing goes to weather like a 737! (and I was in a 737) It was a very interesting day in the GS. There was a mighty right to left current that very nearly set me East of the Rhumb line. With SW winds forecast for the remainder of the race, that is the last place one would want to be. Fortunately, the NW winds hung in there longer than predicted. Even at 6-7 kts. of boat speed, I had to steer 30 to 40 degrees to the right of my intended course. The water in the stream reached 81.5 degrees. It has dropped off to about 75 now, so I believe I am through most of it.
My computer shows about 330 miles remaining, so that puts me at about the halfway point. The mini 806 and I played tag all day. we were never more than a mile and a half apart. I was unable to reach him by radio, but all seems well.
I spoke to Peter via SSB. He had been in touch with Corvus, but was unable to reach any other Class 4 boats.
It is a beautiful night. there is a WSW breeze that is pushing Windswept along at pretty close to hull speed. It is crystal clear and the stars are starting to show. Time for another helping of Diane's famous chili!
4 June 1730 - Baarcanova emailed me. "Barcanova is lonely out here at 36 58 N 068 17 W. I haven't seen or heard from a competitor in over a day except for spotting Solarus on AIS last night. Crossing the Stream was pretty anticlimactic after yesterday's adventures. I saw 16.7 kts of boatspeed and got 15.5 with just a main and staysail. Today has been all light air reaching. Where did everyone go??? Boat is finally cleaned up and I'm getting a bit of rest when the wind steadies out."
Spadefoot - Life onboard is pleasant, so a good time to send a note. Light westerly all day today and bright sunshine. The water is now bright blue as I crossed the Gulf Stream this morning. Great day to dry things out and rest up. Not much rest last night as the waves really kicked up. Yesterday afternoon was good Spadefoot weather, then it got rough and I mostly just tried to keep the boat pointed in the right direction with a double-reef and jib top all night. I can see Dragon on AIS. He is 10.5 directly in front of me. I guess that means I'm Dragon hunting. I heard Concussion and Solarus this morning. They could see each other on AIS, but not me."
Scallywag emailed me on his way back. "I believe I will be going home to Watch Hill unless Ami has some R&R in Newport in mind. Thanks again for everything,
Toothface emailed me. "I just was passed by the 1200 (acording to AIS) foot "Anthem Of The Seas" headed for Bermuda. I'm struggling to do 2 knots and they passed me doing 19 knots dead downwind and into 1.5kts of current. Something to be said for that I guess... All is well. If Im not driving to find boat speed I'm starring at the weather files trying to find wind...so pretty tired but good. I can't quite taste the rum swizzles...but Im thinking about them! I hope all is well across the fleet. Cheers, Tristan from Toothface2.
4 June 0930 - No calls into the Duty Desk. I'm in the Philadelphia Airport.
Scallywag emailed me. "Roy, It is with a heavy heart that I have decided to head home. No luck with repairs and with still a long way to go there would have been too many hours of self steering for this cowboy. Thanks for all that you do for this event. I will miss everyone in Bermuda. Thanks again and my best to everyone at STGD&SC."
Windswept emailed me. "No response on VHF 72. I heard Panacea on 4012, but was unable to make contact as the channel was occupied with other traffic. I just passed Scallywag on a reciprocal course at position 38 19 N, 68 54 W. He reports that he is withdrawing due to autopilot failure. I have reached the outer edge of the GS. The water temperature is now at 70 degrees, up from 61 less than half a mile ago. As I approached the stream last night it was ablaze with lightning illuminating the entire height of the thunder heads. Now that I am here, there is a virtually cloudless blue sky and a 10-12 knt. NW breeze. It is by far the most tranquil that I have ever seen it. I hope it remains that way for the next ninety miles!"
Team Wichard emailed me. "Another cold evening, with some lightning way in the distance in front of us. We are into warmer water and favorable current now, so hopefully the nights will be more comfortable. I spoke to Pocket Rocket this morning, he is doing well. I have not heard from 806 or Trouble No trouble yet today. They must be out of VHF range, but hopefully they will respond to my emails."
But later: "Trouble No Trouble sent me an email this morning. "Good morning. All is well. Looking forward to seeing the other side of the stream.""
Halcyon called my cell phone to tell me Scallywag talked to him and said he was returning home due to both autopilots failing. Halcyon is doing fine.
Seriana emailed me. "Hi Roy, went west so have been outof vhf range. All well with Seriana except Im sitting in no air."
4 June 0800 - Bluebird emailed me. "A quiet night after a turbulent afternoon. Now the sun is shining, the spinnaker is up, and we are making good speed. Should be close to the Gulf Stream- getting 1-1.5K Eastwardly current. Water is not yet warm. No radio contact with other boats since yesterday, and none in sight."
Scallywag emailed me. "I will continue on and hopefully fix one of the autopilots. Once done more sail can be set. I have one of the pilots working, but under reduced sail and will continue this way to make sure it is okay. In daylight, I will let out a little more sail and hopefully make better headway. Hopefully,tomorrow will be a better day. Wind and seas are fine, and otherwise the boat and crew in good shape."
Upstart emailed me. "tough conditions when the front went through but am finaly in the GS and all is well on Upstart"
3 June 2215 - I guess I forgot to explain this. There are three boats that are not racing to Bermuda (not including Flying Turtle) but will race back. Kiwi Spirit is already in Bermuda after his trip from Germany. Inigo Montoya is sailing double handed per their request and is shadowing the fleet. They did not "start" and will not be scored for this leg. Perseverance decided to delay and also sail double handed down to Bermuda and is catching up to the fleet.
3 June 2200 - Flying Turtle - Murray Danforth called me about 2045 from about 10 nms out. He didn't think he was hit by lighting but was real close to it. Anyways it took out his primary auto pilot, main instruments and sat phone. He is using the backup auto pilot and will be pulling into Little Compton where his wife will pick him up.
Choucas emailed me. "We now have 20kts of breeze and clear skies. A bib change from the 30+ kts we had this afternoon.
Only Concussion reported tonight, all is fine with him. Solarus ( class1) is nearby and was trying to contact Dragon."
Scallywag emailed that "Both autopilots packed up. I will need to hand steer to Bermuda. Could be an extra day or two. Don't be concerned by my slow speed. The boat and skipper are fine, but writing messages will be a chore."
3 June 2000 - Barconova emailed me. "I just took a wave at a bad angle and it deployed my jonbuoy. It will be perhaps five miles north of my current position, n 38 35 w 69 11. Accidental deployment. I haven't seen anyone in hours, but the fun started for me at 1500 with 30+ kts with the kite up. It may now be letting up a bit. All's well here otherwise. "
Cordelia called in. Flying Turtle had a system electrical failure due to an electrical storm and decided to head home. He is fine but disappointed. He talked with several boats as he went through the fleet. Cordelia has talked to Prarie Gold and Aggressive. All doing fine. They keep passing one another. They are a group on the west most part of the fleet. Been in wind 25-30 kts out of 303.
Dragon called in. He has talked to Solarus and J Hawk (having auto pilot issues). Currently 15 kts at 303 for wind.
Team Wichard emailed me. I got a txt Trouble N Trouble, Brian is doing fine, entering the Gulf Stream, and remembering how much he loves it! I was not able to reach 806 or Pocket Rocket on VHF. All good on Team Wichard, wet and wild in the Gulf Stream!
Windswept emailed me. "After a quiet start this morning, we have a real lumpy, bumpy, windy, wet afternoon! The wind is from the NW gusting to 30 kts. in my little patch of ocean. A confused sea state makes going on deck a real adventure. I am running with a double reefed main and a blade jib on the inner forestay. I am still hitting 8-1/2 kts at times. The GS entry point is about 70 miles away. I hope the wind is down by then or things will get very interesting.
I received no response on VHF 72. I was able to reach Peter on Panacea via SSB. He is running under jib alone while he sorts out some minor auto pilot issues. Peter was able to contact Carina and reports that all is well.
I did have an interesting encounter a couple of hours ago. I started getting an AIS alarm and discovered Windswept and two large ships were simultaneously passing within 3/4 of a mile of each other! Both the tanker (Alexadros II) and the freighter (Oranjeborg) were operating at reduced speed due to the sea conditions.
3 June 1500 - If you hadn't noticed Flying Turtle is quickly on his way back. My guess is that he lost his auto pilot since his track shows erratic movement before he started heading home. Since he is going into a NW breeze he probably is motoring. Probably be back during the night. No one has reported anything from Flying Turtle other than Choucas seeing him on AIS heading home.
Upstart emailed me. "no contact with anyone in group two but all is well on upstart"
3 June 1130 - Corvus emailed me. "Just completed 120 miles with the chute up since midnight. NW wind at
12-13 kts. with flat seas and good boat speed makes it a pleasant ride!. Temps just breaking 70 but it feels way cooler. Happy to have dodged the worst of the squalls last night."
3 June 0800 - Perseverance left for Bermuda around 2300 last night and is on his way down; showing up on the tracker map.
Cordelia called in. Heard from all except Prairie Gold however Cordelia can see him on AIS. Halycion was complaining that he forgot some food item for his meal! Cordelia took a knock down with a gust to 40 during the night. Other than loosing his wind readings he is fine. About sunset the wind died down to about 8 kts and boats were passing him.
Prairie Gold emaild me. "All is well. I missed the call in session this morning but just spoke to Cordelia. I had a problem with my genny furler that I identified before the squall hit :) A 150% genny in the squall as a handful. But in reality uneventful. Overnight I fixed the problem and all is now well. I now have the kite up trying to catch the others."
Windswept emailed me. "After an invigorating sail yesterday, we now have a following breeze of 3-5 kts. I heard From Panacea this morning on SSB. There was no traffic on VHF 72. Peter has heard from Strummer, Corvus, and Bluebird. All is well."
Bluebird emailed me. "All's well on Bluebird. Off of the Continental Shelf just now, sailing gently under spinnaker in light NW winds. No contact with Class 4- most of class 3 seems to be about."
Choucas emailed me. "it is quite calm at the moment wind at 8kts form 327o. But the cold front passing was interesting, rain, lightning and 25-30kts squalls. One took me by surprise and it took me a while to get Choucas back on track. This morning I heard from Spadefoot, Barcanova, Concussion and Seriana, No problem to report. During the night I saw on the AIS flying turtle sailing slowly in the opposite direction. Could not reach him by radio."
Team Wichard emailed me. "All four mini's checked in this morning. We all had a very cold night, and we're really happy to see the sun this morning. Breeze was very light at time, but has filled in nicely from the NW."
Spadefoot emailed me. "Sending an email as I'm doubtful I'll hear anyone on the VHF. Haven't seen another racer on AIS for several hours. 39-46N 69-57W Heading 152 in about 10-12 out of the north. My wind instruments died yesterday evening when the cold front went through. Makes steering with the kite up and little more difficult without the apparent wind mode, but otherwise not much of a deal. Good thing my mast isn't very tall as I'll be spending a fair bit of time staring at the Windex. The cold front was exciting. Put the A5 up when the wind shifted and then saw 20-35 for about an hour. Top speed was 13.5 knots. A few wipe outs as the wind shifted through 50 degrees at times as the front passed. I made up 2nm on Barcanova in 1 hour. After the front passed, the skies cleared again and I put up the A2. It's been up all night in some pretty moderate winds. Winds increasing a little now as the sun is coming up. Waves are small. It's pretty comfortable. Wind is more northerly than I expected, so I've gybed to port and I'm pretty close to the rhumbline."
Barconova emailed me a rather long one. "...Somewhere during the sail change, Upstart disappeared over the horizon behind me, though the little 28 footer from Austin, Justin Wolfe in Spadefoot, snuck by me. Good times so far! Hopefully I'll have a day of glorious wind before the high moves in and things glass up. I've just crossed the rhumbline again heading back west anticipating a big southerly shift in a couple days time. Yee haw!"
Toothface emailed me. "All is well on board. Beautiful sunrise and morning. A little dissaponted with how i sailed last night but going well now. Light and fluky last night. Not Class 40 weather. Clay is about 6 miles to weather of me and obviously sailing well. I need to turn it up a notch..."
J Hawk emailed me. "No luck on radio comms this morning. All good here. Spin up, sailing in 10knot breeze from 325m."
2 June 2000 - Cordelia called in. In 20 kts WSW. Heard from all except Agressive however he can see Agressive on AIS.
Dragon called in with light winds but as we were talking the winds suddenly built and had to go topsides. Heard from Tootface, J Hawk, Solarus. Haven't heard from Flying Turtle nor Inigo Montoya however Dragon can physically see Inigo Montoya.
Choucas emailed me. Has heard from Breakaway, Upstart and Seriana.
Upstart emailed me that they are fine.
Team Wichard emailed me. All good on Team Wichard. Thunderstorms this evening, with a rainbow at sunset.
I spoke to Pocket Rocket, and all is good.
I also spoke to 806, all is good on board there to.
I emailed with Trouble No Trouble a little earlier, he is comfortable and happy.
2 June noon - And they are off. The wind started off around 10kts southerly and built into the standard SW before they were all off. Nice sunny day. Michael Schum gave us some excitement when he lost his steering for a while. Fixed it and on he went. 34 boats started with one shadowing the fleet, Inigo Montoya. In Concert lost his steering prestart but was able to fix it and is racing (late start). He came damn close to Goat Island. Aggressive was quite a bit late to the start coming down wind to get to the starting line. Perseverance is planning on leaving late to deliver the boat to Bermuda for the race back.
The ybTracking app Races is now working and free!
1 June 1400 - Skipper's Meeting was held with around 45 people in attendance. Frank Bohlen gave an update on the Gulf Stream then Ken Campbell of Commander's Weather gave a forecast for the trip down to Bermuda. We had a surprise visit by Juan Perez from Virginia at the meeting. Juan had done the first 15 races and was sea sick for the first day on each race! After the meeting Doug Shearer showed up in characteristic late fashion.
1 June -- The tracker site will not be available until I send the tracker number to boat cross reference (some boats haven't collected their trackers yet) so the boats shouldn't show up until tonight sometime.
30 May - Stanley Paris on Kiwi Spirit 2 has arrived in Bermuda safely however much work is needed to be done on the boat.
25 May - Frank Bohlen has provided the second Gulf Stream Brief leading up to the start 2 June.
30 April - The calendar now includes the Social activites.
26 April - Frank Bohlen, our Gulf Stream expert, is offering a course on the Gulf on 13 May. See the brochure.
Potentioal 2017 skippers: The following people have stated that they expect to race in 2017: Dan Alonso, Murray Beach, Clay Burkhalter on J Hawk a J/133 (his uncle Rod Johnstone return crew), Jack Clayton on Melantho 2 a Cal 33-2, Marcus Cochran on a mini 547, Murray Danforth, Brian Gray on his mini Trouble No Trouble, Bob Green, Roy Greenwald, Peter Haydon, Philip Haydon on his Catalina 350 Prairie Gold, Mike Hebert on his C&C 1221 Pointe Blank and return crew Marcos Tonndorf, Michael Hennessey (are the Class 40s back?), Vernon Hultzer on his mini Team Wichard, Eric Johnson, Gerry Leger, Tony Leigh on his mini 806, James Linsley on Convergence, Rick McCally, Peter McCrea, Louis Meyer, Michael Millard, Rob Mills on Jay Sharkey's mini, Tristan Mouligne on a Class 40 Tooth Face and Mike Dreese return crew, Stanley Paris on his newe 53 footer, Ray Renaud, Rick Rohrer on Rocinante a J/109, Michael Schum on his new to him boat In Concert a Saga 409, Roger Shepley on his Omega 42 SV Seriana, Dan Stadtlander, Noel Sterett on his J/130 Solarus, Gust Stringos, David Tabor, Chris Terajewicz on his Morris Justine (another one) Corvus, Mac Turner, John Van Slyke, Sandy Van Zandt, Frédéric Waniart on SUPER ARLEQUIN 29 MOD RFA Maeva.
Successful Qualifiers: Roger Shepley on SV Seriana an Omega 42, Chris Terajewicz on Corvus a Morris Justine 36, Mike Hebert on Pointe Blank a C&C 121, Rick Rohrer on Rocinante a J/109, Philip Haydon on his Catalina 350 Prairie Gold, Paul Grimes on Breakaway a J35, Clay Burkhalter on a J/133 J Hawk, Justin Wolfe on Spadefoot, Jason Seibert on Concussion, Stephen Gay on Barcanova a Sun Fast 3200, Marcus Cochran on Pocket Rocket, Tristan Mouligne on Toothface 2.
12 March - Pictures from teh 4 March Forum/Shore Party are now displyed in the Photo Gallery for 2017.
4 March - 40 people participated in the Skipper's Forum/Shore Party. Several people that haven't registered yet said they plan on registering real soon now. Frank Bohlen gave a wonderful brief on the Gulf Stream and stressed the importance of starting to look at the stream at least in May and maybe even April. Frank will again provide me a list of links to evaluate the Gulf Stream and I will post it. I gave info with respect to the race. At the moment we have 27 boats registered and of them 5 are family boats and 12 are new skippers! Wonderful food was again provided by Caryn Cummings with support from Jody Sullivan and Donna Bouressa. I will post pictures in the Photo Gallery from Bill Shea who was taking pictures during the event.
4 February - The March newsletter is now posted.
2 January - Registration is now available online in the menu area on the left. And the applications start coming in. Three signed up today; two new and one returnee!
2 0 1 7 2 0 1 7 2 0 1 7
25 December - Stu Heywood passes at 81 on this date.
25 November - The Notice of Race and Calendar have been posted. Registration opens 1 January.
15 November - About 70 people participated in the Skippers' Forum/Reunion/Gam! It was truly wonderful to see all come out; see faces we haven't seen in a while. People came as far away as Wyoming, Maine, Connecticut, Annapolis, DC, New York. Skipper's Representative Tristan Mouligne led the introductions but due to the volume of people we only had those planning on doing the race next year introduce themselves. Names that were not included above have been added. Will Keene from Edson gave a talk on boat offshore preparation. Joe Cooper was present for Hood and gave his 90 second talk (both Edson and Hood are some of our sponsors). I discussed some specifics for the race: Online Registraion goes online 1 January, 4 March is the next Skippers' Forum/Party. For the NOR which hopefully comes out at the end of November the following changes have been made: ISAF OSR changed to US SER, an electric flare has been developed and will be allowed and the inflatable Dan Buoy is approved to replace the MOM. We are working on replacing some of the perpetual trophies due to wear. After this we spent a couple of hours gabbing, eating and drinking. A well attended reunion. See pictures of the event by Bill Shea.
3 October - The October Newsletter is now posted.
1 August - Derek Hatfield, a Canadian skipper who raced in the 1995 Bermuda One-Two, has passed away at the end of July.
31 July - Both the Offshore 160 and New England Solo/Twin races have been held with several past B12 skippers participating and several potential new B12 skippers participating. Seven boats raced in the Offshore 160 with 5 finishing. 27 boats started the New England Solo/Twin and 20 finished. Go to Offshore to see results and notes.
18 February - The 2016 March Newsletter is now posted.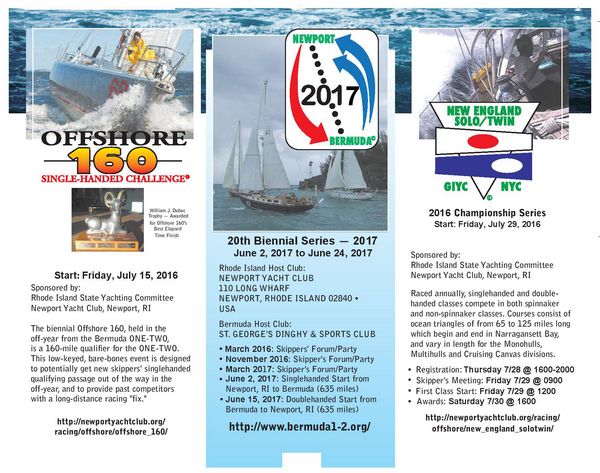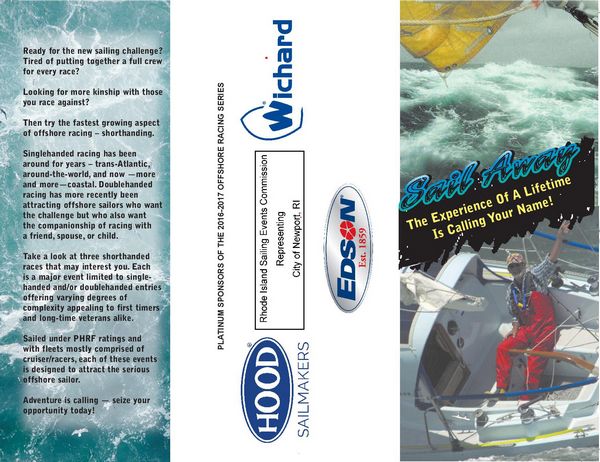 2 0 1 6 2 0 1 6 2 0 1 6
7 November - The Skippers' Party was held at the Newport Yacht Club. Joe Harris had a send off party at his boat expecting to leave on a around the world record attempt later this week. Several people went to both events. We had about 30 people attend; lost count because people kept coming in during Michael Hennessy's brief. Michael briefed us on his preparation for the transatlantic race and during the race which was very interesting. Michael Dreese was also present and was able to provide other insight since he also raced in that race. Afterwards we had plenty of food by Caryn Cummings and Jody Sullivan.
14 October - The October newsletter was emailed out today and is posted in the website.
14 July - Announcing the dates for the 2017 Bermuda One-Two Race. The single handed leg to Bermuda will be 2 June 2017 and the return double handed leg will be on 15 June.
27 June - Awards was held at the Newport Yacht Club with about 60 people attending including Newport Mayor Jeanne-Marie Napolitano and Commodore Stewart Abramson. It was wonderful to see all the people and the comradery.

26 June 1700 - Final double handed and combined results are posted.
26 June 0054 - Nimros finished! Last boat in!
25 June 3 finishers within 24 minutes of each other. Just Doug on Nimros is left (again :) ).
1544 806 finished!
1533 Windswept finished!
1520 Carina finished!
25 June 1400 - Windswept emailed "17 miles to go. I am right on course. I have the code 0 asymetrical flying! You will never guess who I see about two miles ahead! I can spot those boats miles away after all these years of playing tag with Peter! Of course you know who it is. You can see the trackers!" Carina
25 June 1300 - Windswept emailed "It feels as though the South Westerlies are filling in. I have 22 nm to go and I am headed more or less in the right direction! The computer now says I should be in by five tonight.
25 June 0800 - Windswept emailed "Last night started with a clean course to Newport, the boat doing 6-7 knots through the water, and about 70 miles to go. It was a clear night, the stars were bright, and there was enough of a moon to see the porpoises frolicking in the bow wave. Sounds pretty idyllic right! Well, the wind started clocking ever so slowly, but by 2:00 AM it was evident I was not going to clear No Man's Land. the night degenerated into a fickle wind that ranged from just south of west to north east. There was always plenty of it to keep the boat moving fast, but at the end of each tack, it seemed to shift just enough to wipe out any gain that tack might have achieved. So here we are, still 30 miles from Newport, with the wind now fairly stable at NNW, having lightened up to about 6 kts. I am making about 3.5 Kts. with a VMG of about 1.8 Kts. Mr. computer is now predicting about 10 hours to go. The NWS is forecasting strong southwesteries for this afternoon. I hope they are right! While I was writing this, I managed to boil over my chicken noodle soup, completely covering the stove. Sigh, at least I will have something to do after breakfast!" Is Rick trying to compete with Mike Hennessy?
25 June 0715 - Draft double handed and combined results are posted.
Carina called in. The finish looked in sight then the wind shifted and dropped. Wind now NW about 6 kts. His finish now projected to be about 3:30pm!
25 June 0400 - Windswept emailed "Well, the wind shifted to the NW again, so I had to take a long tack out into RI Sound. Got tangled up (figuratively) with a trawler. Those guys can be real jerks! I guess they are just bored and torture sailboats as a sport. 42 miles to go." Think Rick is counting down the miles to go?
25 June 0218 Trifion finished! Engine wouldn't work, again, so they had to sail up to the yacht club.
24 June 2000 - Windswept emailed "I just got clear of the last of the friggin tidal currents in the Nantucket Shoals. Davis shoals, I think that was where the Offshore 160 used to turn until they took away the buoy! I f the wind holds (like it hasn't for the past four nights), it is a straight shot to Newport from here. I am doing 6-7 kts. through the water. I have 70 miles to go. You might see me by daybreak. This might be my last report for two years! If I decide to head straight back to Barrington, what is the deal with customs? I bought the sticker. Do I just call someone. There were many years that I just went home and didn't say anything! See you tomorrow???
Carina called; nice weather winds 10 kts out of the NW. Haven't heard from anyone. Even though they are near Windswept and Nimros!
24 June 1407 - Halcyon finished!
24 June 1341 - Strummer finished!
24 June 1122 - Tyche finished!
24 June 0940 - Windswept emailed "I am about 107 miles from Newport. Yesterday, I made great progress until about 9:00 PM when the winds increased to 28-35 kts and clocked around from the SW to the NW. They are now blowing directly from Newport! First, I rolled up the big racing genoa and put up the #4 jib on the inner forestay. I also put the first reef in the main. I ended up dropping the mainsail completely and sailing with just the #4 jib. Every now and then, a large wave would break over the boat and spin it around, freaking out the autopilot. so I would have to go up on deck and get soaked straightening things out. Then the engine kept shutting off because there is so little fuel left in the tank that with the boat heeled over, the intake was sucking air. I finally hove to for an hour to charge the batteries. I have a spare five gallons of diesel deep in the cockpit locker, but I wasn't going to mess with that last night. I would have gotten gallons of salt water into the main tank. Around 3:00 AM the water temperature dropped from 79 degrees to 63 degrees over the course of a mile, so I guess I am finally clear of the warm core eddy I have been riding for a day or so. Because of the wind shift, I am now well off course. I am headed for Nantucket shoals and the main NY shipping lanes. As soon as I clear the lanes, I plan to tack over onto starboard to head back to the rhumb line. I am running with a single reefed main and the #4 jib. after I send this, I plan to go to the full main and the big genoa. the winds are down to 15 kts, but there is still a nasty wave pattern that requires quite a lot of power to muscle through. I seem to have a foul current of about 2 kts that has my speed over the ground down to a dismal 3.5 - 4 kts. I went up on deck this morning tired, cranky, cold, and generally pissed off and witnessed one of the best dauphin shows ever! There must have been 20 or 30. They came right up to the boat and tail danced! That really cheered me up. They were also playing around with half a dozen birds (shearwaters ?) that have been following me since Bermuda. The birds would land in the water, and the dauphins would leap out on all sides of them. The birds seemed to go along with it 'cause all they had to do was fly away, but they kept landing close by and pretending to be all annoyed off when they got showered! The weather forecast is for "light and variable winds" so I am not exactly sure when I will be in. This is turning into an epic, or perhaps more of a saga!" Rick out did himself this time. Must have a lot of time on his hands.
24 June 0728 - Dianthus finished!
24 June 0301 - Mirari finished!
24 June 0059 - Bluebird finished!
Mirari called in to say they are 4 nm out however dead in the water; no wind.
24 June 0034 - Team Wichard finished!
24 June 0000 - Scallywag called to say they are withdrawing and have started there motor and will be pulling into Newport.
23 June 2237 - Dianthus emailed "Dianthus is standing off shore due to the severe storm. Anticipate a 3-4 am finish. David"
Mirari InReach "wind died so it looks like another long one".
Kontradiction called; was low on fuel so he pulled into Menemsha, Martha's Vineyard for the night. They are safe and all bundled up in a slip for the night.
23 June 2100 - Pogo Loco safe at the dock. They had no electrical power on the boat due to the wetness within the boat. Quite the light show. The boats south of us must be getting hit with rain, wind and lightning; my sympathies.
23 June 1800 - Team Wichard emailed "We are 17 miles from the finish and beyond ready to be finished! All is well on board. We just heard from Scallywag and they are about 6 miles behind us, we look forward to seeing them at the dock. No response from Pogo Loco. See you soon!
Windswept emailed "I am back to a single reefed main and the #4 jib on the inner forestay. It is gusting to 32 kts. from the SSW. I have been riding a warm core eddy all day long making up to 11.5 kts. over the bottom at times. The water temperature is about 80 degrees. I figure I will loose this push when I hit the continental shelf in about 30 miles. I am about 155 miles from the finish. My computer predicts I will be there in twenty hours if the current conditions persist. However, we both know that there is very little chance that they will! So expect me when you see me!
23 June 1750 Pogo Loco called. 12 nm out 13 kts wind. Boat is sopping wet.
23 June 1442 Cordelia finished. Gail is the navigator and thus does all the navigating on this leg. However! Gail gave Roy one task back in Bermuda to put R2, the finish mark at the entrance to the Narragansett Bay, into the chart plotter. While they were going up the "bay" Roy2 (who had been sailing Narragansett Bay his whole life I might add) suddenly asked where the Newport Bridge was and instantly realized what happened. He had put R2 off of Sakonet Point into the chart plotter vice R2 at the entrance to the Narragansett Bay and had not finished yet thus the excursion up the Sakonet River. The one task Roy2 did for navigation! A big oops! A first for the Bermuda One-Two!
23 June 1428 Island Girl finished! With Cordelia hot on her heels.
23 June 1300 Mirari InReach "Lost the Asym spin halyard. Recovered the sail in record time. Sailing on full main, full genny, full mizzen. Gooseneck completely severed but lashings are holding boom to mast, not pretty but it's working. Barreling along at 7.5 on straigh track to newport. 78"
23 June 0823 - Aggressive finished!
23 June 0722 - Meridian finished! Said there was a little bit of everything in this leg but glad to be finished!
23 June 0700 - Cordelia called in with wonderful stories. When the wind died yesterday morning there was about .5 kts of current taking him away from the finish so he dropped his anchor in about 150' of water; he had to add extra line. Figures it saved him 1 hour in time. Then when the breeze started to overcome the current he had to wait for the wind to set him into a position that he could put up a sail. Decided to put up an old asym without the main so it wouldn't be obstructed. Got going and eventually the asym blew up into two triangles; one on the deck and water and the other still up. Said it was pretty easy to bring in. Great story!
Mirari InReach "Doused the main because of the broken gooseneck, sailing under Asym and mizzen. Doing Good. Hope the wind holds. Yep magic stick is making up for lack of main sail. Actually sailing just fine without it. We can still put up main if required."
Tyche InReach "All's well. See you soon." A boat of many words!
Team Wichard All good on board Team Wichard. No contact with Pogo Loco or 806. I heard via radio, that Kontradiction, is taking on water, and has retired. I see him behind me on AIS, he is heading for Long Island Sound.
Windswept emailed "No wind last night. I was able to get into a large warm core eddy, so I did make about 1.5 kts towards Newport for most of the evening. It is a very large eddy, so I hope I get wind today or I will ride this sucker right around and back towards Bermuda! The forecast is for strong SSW winds today. I am starting to see a little action from the south. I am actually sailing again at about 2 Kts. added to the eddy is giving me about four towards home. My navigation software (Coastal Explorer) developed a very weird and annoying glitch last night. For some reason, it now sees my own AIS signature as an immanent threat! I am being constantly warned that a collision with myself is immanent and indeed has already occurred. There seems to be no way to silence the alarm. So I have the choice between having an alarm beep every two to five seconds (random timing), or turning off my AIS broadcast, or turning off my navigation software. I tried and failed to raise Scallywag II this morning. I was a bit after 7:00 AM. The weather for the next three or four days promises to be very complex according to the latest offshore forecast. No one wind pattern is likely to last more than about 12 hours. Maybe I will try my hand at fishing. It will have to be casting or jigging, because it certainly won't be trolling at this rate!
23 June 0213 - Samba finished!
22 June 2000 - Carina called that winds are 16-18 W with seas moderating; actually fairly nice.
Team Wichard emailed "A quiet day in comparrison, figthing current. Finilly out of the Gulf Stream, and heading for Newport. Damage assessment on board Team Wichard, following last nights storm: Torn Mainsail, Cracked starboard rudder. All else is good. No contact with Pogo Loco or 806"
Windswept emailed "Well, I am clear of the Gulf Stream. I also sailed out of the nice SW winds that got me this far and into a NNW breeze. So at this time, I am headed for New Hampshire. The Southwesterlies should return tomorrow. I hope to be in late on Wednesday. I had a brief chat with Scallywag II on SSB. It was a very scratchy connection, but it sounded like Bob was about 150 miles from Newport.
22 June 1803 - Flight Risk finished! 3rd boat.
Take a look at the confused boats. Looks like a bunch of boats are stuck in the Gulf Stream with very little wind; pointing in all directions and little speed.
22 June 1100 - Mirari emailed "today is a better day, now if we could just get the wind to shift more W or better yet SW it would be a nice final sleigh ride home. BTW, we released the 12 swordfish we had hooked up like Santa's reindeer because they refused to pull us to Newport. Something about a union contract."
22 June 1040 - Flying Turtle finished!
22 June 0744 - Resolute is the first boat to finish the 2nd leg!
22 June 0800 - Cordelia called. Only talked to Aggressive. 12-15 kts out of the West. Can't lay Newport. Had minor problem with genoa, slow tack resulted in lazy sheet getting all balled up. Had to attach another line to it to untangle it and in the meantime the life line sort of broke but was able to fix it. The 20-30 kts died down around 4 am. Long night.
Flight Risk a very tired sounding John called in. Tough night. No contact with anyone for the past 2 days. Heard Meridian talking to Dianthus though. 8kts out of the West about 70 nm to finish.
Carina called in. OK, 6' seas winds 16 kts to West, worst conditions have died down. No VHF contact."
Scallywag emailed "We are out of the "hunker down" mode and finally raising a few sails to make tracks for the finish line. All is well. Nothing heard on VHF this morning. Heard Windswept on the SSB and he seems to be moving along nicely. "Bill" won't be bothering him."
Kontradiction called. They had some excitement during the night. The boat started filling up with salty water. They finally found that a sea cock was letting water in. They fixed it and pumped it out. Very happy Mike Stevens was with him. Still around 20 kts of wind out of the North.
Team Wichard email "all is good on team wichard, very bumpy seas hoping to be finally out of this soon havent heard from the others hope all boats are ok"
Windswept email "Well, I'm in the belly of the beast for sure! I entered the Gulf Stream at around 02:00 this morning. The true wind is 28-35 from the west. The water temperature ranges from 83 to 85 degrees with the air temperature a couple of degrees lower. I am being heavily set in a NE direction. I am sailing under stay sail and double reefed main at an apparent wind angle of about 60 degrees. My speed through the water is 6.5 to 7.8 Kts. My speed over the ground is a disappointing 3.0 to 4.5 kts. It will probably take most of the day to get through the stream. The wave conditions are about what you would expect if you set your washing machine on the "heavy soil" setting. I have never seen my decks so clean! I spoke to Scallywag II on SSB. Bob reports all is well aboard, but that it is slow going. He also mentioned that he overheard part of a radio transmission between a cargo ship and a B1-2 racer, name unknown. The racer reported being hove to under storm jib and drogue. I show that I have about 300 miles to go.
Nimros Barbara emailed in that "Doug called me this morning to let me know that he and Nimros are okay. Due to the rough conditions last night, he was not able to call in.
Bluebird emailed "Bluebird back in action after a bad night"
22 June 0540 - Mirari InReach "I'm sure others are having equally horrible conditions. Dianthus was laying to a drogue and storm sail. We have slowed down but still moving."
Dianthus emailed "0510 mon. Just re hoisted main, recovered drogue, resumed racing"
Tyche InReach "All's well but rough seas."
21 June 2330 - Mirari InReach "This is absolutely my last race!"
21 June 2000 - Cordelia called. Talked with Aggressive and Dianthus. Dianthus reported a gust of 47 kts. Dianthus is using a drogue. Cordelia said seeing 30-35 kts WSW. Expecting 20 kts by morning but a wet and sleepless night.
Kontradiction called. No contacts. 35-40 kts NW, yuk! Tough seas.
Carina called 20 kts SW big seas.
Scallywag emailed "We are both well, the wind has topped out at 48kts,seas very large and the wind direction not cooperating. Guess that's what sailing is all about. We have been in cruising mode in view of the conditions with all sails down and only the staysail pulling us along at 8 kts. We hope to be in Newport Tuesday. Just heard from Windswept on the SSB that he had to return to Bermuda with injured crew. Hope it was nothing too serious. He is presently underway again for Newport."
Windswept emailed "This sure has been a port tack race! I am starting to pick up the remains of TS Bill. The winds are SW at 22Kts., gusting to 29. I am beam reaching with a full main and the #4 jib on the inner forestay. I had to strike the 135 racing genoa after the winds started gusting over about 24 kts. I will probably put at least one reef in the main before I loose the daylight this evening. I figure it is about another 40 miles to the south wall of the stream. I should get there a little after midnight. I will then be just about exactly half way home. I spoke to Scallywag II on the single sideband. He is reporting 40 kts. and more from the SW. He has about 217 miles to go. Hopefully, I can keep moving as there are supposed to be light and variable northerlies on the other side of TS Bill.
I was unable to raise anyone on VHF 72, which was not surprising. I did see Tyche while steaming towards Bermuda yesterday."
Island Girl texted me "All safe on Island Girl. Through worst of storm. Gust to 48. No contact at chat hour."
Dianthus emailed "Finally got the main down and are sitting pretty at 3 kts. Dianthus was under storm jib and dbl reefed, boat surprisingly well behaved and easy to control, even in 35 kts. After surfing at 15 kts + several times in 40 kts gusts, we deployed three big heavy lines which made things much nicer. The next round of gusts sent us further to the NNE and the seas were like a recalcitrant teenager; confused, disorganized and angry. Out came the Galerider drogue?"
Team Wichard emailed "All is ok on Team Wichard."
21 June 1700 - Mirari InReach "We are north of the 38th and doing a little better. We lost main VHF. Using spare one on mizzen. This is not getting better out here. Good news is with jury rigged gooseneck we are able to reef, which with recent wind shifti s a good thing."
Tyche InReach "All's well - rough"
21 June 1000 - 806 emailed "Becalmed 5 Hrs during night. Now humming along under spinnaker in 17Kt SW. Seeing 9 kt surfing. YeeeHaaaa!"
Mirari InReach "Broke the gooseneck. We have it lashed and it may hold. We may be sailing in with just jib and mizzen. Good news for windswept! We have had little radio contact. We are getting pushed all over. Seeing 30 knots. Doing 8.5 but only 6 over the ground. Lashing is holding, not sure for how long or if we can reef. "
21 June 0800 - Pouring rain here with the wind out of the SE.
Cordelia called. Heard from Island Girl, Kontradiction, and Meridian. Heard Meridian talking to Aggressive. Miserable night in that it was very light and had trouble keeping going. Some boats flew spinnakers, Cordelia did wing on wing. They are out of the Gulf Stream now.
Kontradiction called. Talked with Meridian but heard conversations with Cordelia, Island Girl and Aggressive. Everything is ok. Wind is south at 10-12 kts. Getting a little push from something; an eddy. Most of the time the stream was against them. Mike has a headache from partying on Island Girl last night for Brian's Birthday!
Samba called. I had accidently sent text message to him vice someone else about the rescue on Windswept so he wanted to know about it. He said they are having the best wind since the start.
Bluebird emailed "Finally making our way West....
21 June 0100 - 806 InReach "Becalmed. Not a breath of wind."
20 June 2130 Windswept email "in a somewhat harrowing night time operation, Jim was successfully transferred to the Norwegian Dawn. The transfer occurred about 170 nm from Bermuda. Jim should be there in the morning. Windswept even came away unscathed in spite of rafting up with a heavily built steel lifeboat in two to three foot ground swells. I plan to head directly for Newport and should arrive a day or two behind the fleet." That's a relief!
20 June 2100 The Coast Guard Portsmouth called me to say that the Norwegian Dawn cruise ship is supposed to pick up Jim Coughlin from Windswept for medical reasons. The cruise ship at the time was 5 miles away from Windswept. The next port of call for the cruise ship is Bermuda.
20 June 2000 - Flight Risk called, still in the Gulf Stream but it is mild. Talked to Flying Turtle. All ok. Seas 2-3 feet, wind 13 kts NE. Expecting to finish Monday afternoon. (dreaming?)
Kontradiction called. Wind 4-5 kts NE. Heard from Cordelia, Island Girl, Flying Turtle and Dianthus. All fine.
Carina called that all is well. 6 kts out of the N. Doing 5 kts.
Cordelia emailed a lengthy piece "Tonight's radio round-up included a rendition of Happy Birthday by Roy2 on Cordelia for the benefit of Brian Flynn. Brian offered creme brule for anyone who could round up with him and Island Girl. Apparently he has rehired a dessert chef for this leg of the race. All was well on Island Girl. Aggressive checked in and is moving nicely. They had had some problems with AIS and their radio but that appears to be fixed now. Dianthus is well and flying her chicken chute. It seems like most of the class has their spinnakers up in about 8 to 10 knots of breeze from the east north east. It is a beautiful evening out here. On Cordelia we celebrated the clear warm day with showers and a small batch of laundry, which provided some relief from the heat by drip drying on our heads from lines run across the cockpit."
Team Wichard emailed "I did not hear any chatter tonight, and no response to hails from 806 or Pogo Loco. I guess im out of range. All is good aboard Team Wichard. Wishing Brian on Island Girl a happy birthday today."
806 emailed "Slow frustrating day today. Light upwind w chop."
Windswept emails "Fairly calm sea state, wind NE at less than 10Kts."
Dianthus email "It was a beautiful sunset, wind starting to fill in with asym up."
Nimros called. Wind 6 kts out of the N. Doing 5 kts. Getting out of the Gulf Stream.
20 June 1800 - Bluebird email "Approaching the Gulf Stream. Halcion 8 miles to the NE of us."
20 June 1350 - Tyche InReach "All's well on Tyche. Windswept is returning to Bermuda."
20 June 1100 - Windswept is taking precautionary measure of heading back to Bermuda (somewhere between 1000 and 1100 EDT) due to a health problem with crew member Jim. Windswept has not declared an emergency however he is playing it safe. I have contacted the Coast Guard and they have contacted Bermuda.
20 June 0700 - Cordelia called wondering how they were going to get west; of course they are very west with a bunch of other boats. Heard from Dianthus and Halcyon. Nice day, winds 10-12 kts NW, calm seas.
Tyche InReach "We have not heard from anyone"
Kontradiction called in that he just tacked onto starboard to head west. The conditions are nice; 14 kts from the North, 2-4' seas. All is well on his boat. Haven't heard from anyone this morning.
Carina called in and also hasn't heard from anyone. Winds just died down to 8 kts out of the west. Heading back towards the rhumb line.
Scallywag emailed "No contact on VHF CH72 or SSB. All is well despite the head winds."
Flight Risk called in that him and Flying Turtle are in the stream but it is nice; seas 1-2 ft wind 12 kts at 010 degrees. Didn't hear from Resolute this morning. Suspects Resolute might be out of the stream. Expecting the winds to go real light which isn't good while in the stream for them.
Team Wichard emailed "All is well on Team Wichard. Unable to reach 806 and Pogo."
806 InReach "No contact with rest of fleet, no wx download capability. "
Bluebird emailed "Windswept noted 8 miles behind on AIS last night."
19 June 2000 - 806 InReach "All ok on 806. Tiller repair holding up. Too far from fleet for vhf. Did anyone find my black storm trysail fleece?"
Team Wichard emailed "I'm assuming Pogo Loco & 806 are out of range. I had no response to hails.I can see Windswept and Trifion in the distance behind me to the south. I did not hear any chatter tonight. All is good on board Team Wichard.
Tyche InReach "All's well aboard Tyche."
Scallywag emailed "Nothing heard at 1900 VHF or SSB. All is well on board. Will try again in the AM."
The following called into the Duty Desk: The Eastern Group as they call themselves since they are way east of the rhumb line. Mirari, Kontradiction and Dianthus. 8-12 kts. Expecting the wind to get lighter Saturday.
Flight Risk all is well. Resolute is ahead by 13 nm, Flying Turtle is ahead by 3 nm, Samba way west. 8 kts out of the west expecting it to go North.
Kontradiction is quite east. All is well. Nothing from Meridian. 3-5 foot seas, 18 kts NW (I wonder about his wind readings, always much more than anyone else). Heard Cordelia, Mirari and Island Girl but they didn't respond to him.
Carina all is well. Wind out of the west at 10 kts, 2-3 ft seas. Doing 5.2 kts, everything is working.
Nimros Now that Doug has his watch on EDT vice Bermuda Time (which he did during the first leg) Doug is actually calling in at the right time! He was an hour late during the 1st leg because for some reason he had his watch ahead one hour. Wind 8-12 kts going west.
Samba sent text to me: "All good on Samba! We couldn't help ourselves. Intrigued with the westerly route and decided what the hell, lets roll the dice! Its a long term plan."
19 June 0800 - Team Wichard emailed "All good on boad Team Wichard, after a really bumpy night. Hailed Pogo Loco & 806, but had no reply."
Bluebird emailed "all's well aboard Bluebird. Winds NW, 10 Kts, Dolphins yesterday evening
Windswept emailed "I listened to the morning radio chat and then fell asleep, sorry! There was little radio communication. I did hear Team Winchard try unsuccessfully to reach others in his group. Right now, Team Windswept is cranking along at 5-6 kts. over the ground headed roughly for Newfoundland. We are about 100 miles from Bermuda. The wind is NW at about 12 kts. There is a nasty underlying ground swell with the wind waves superimposed over it. This makes moving around the boat quite an adventure! I have Trifion about 3 miles back on my starboard quarter. There is an unidentified vessel about two miles off my port beam that we have been slowly overtaking for the past twelve hours. It has dark grey sails. I can't make out any other features as binoculars are useless with the present sea conditions. It could be Team Winchard. Breakfast this morning was two hard boiled eggs and a can of ginger beer. A breakfast of champions for the winner within! Last night, we had to make a crash tack to avoid getting run down by a freighter. It was crazy. We could see his AIS signal for half an hour. Presumably, he could see ours, and the signals from the four other racers in the immediate vicinity. When it became clear he had no intention of changing course, we tacked just behind his stern. I could hear his bow wave! More news this evening.
Tyche InReach "All is well."
The following called the Duty Desk: Cordelia nice night, 12-14 kts NW. Heard from Dianthus, Island Girl, Kontradiction and Trifion. Trifion's auto pilot not working (if I read the notes right).
Flight Risk Heard from Resolute and Flying Turtle, nothing from Samba (because he is way west of the crowd.). Expecting to hit the tropical depression Bill on Sunday, probably in the Gulf Stream.
Kontradiction all is well. Sat phone not working on Meridian but doing fine. Scallywag fine.
Carina doing fine. No other boats. Wind 14 kts out of 310 degrees. East of the rhumb line and will tack soon towards the rhumb line.
18 June 2000 - Scallywag emailed "All is well on Scallywag II. Ami and I are enjoying the first night out and will welcome a nice shift to the SW. Wishful thinking but we can dream. Only Meridian was heard from. New 806 returned and am glad she is underway again."
Windswept emailed "All is well aboard the good ship Windswept. I was rocking out to "Good Vibrations" by the Beach Boys. It seemed appropriate. This was an historic day. I think for the first time ever I didn't get busted while show boating with my bid red spinnaker! I have heard from all of the class four boats. No problems were reported. There is a bit more wind than I feared, but it is right on the nose! We are close hauled and making 5-6 knots directly towards Labrador! More news tomorrow."
Team Wichard emailed "All is good with Pogo Loco and Team Wichard. I can still see Pogo Loco off our port forward quarter, high and faster than us.
1904 hrs - Flight Risk - John Lubmir. Class 1 all accounted for. Everyone within 5 miles. Wind out of the NW, 10-12 kts. Beautiful evening for sailing.
1919 hrs - Cordelia - Roy Greenwald - Reports all of Class 3 is accounted for. Heard from Halcyon - Roy was breaking up, but either he or Halcyon had lamb chops on the grill. Lost telephone contact. Roy called back at 1922. Cordelia also heard from Island Girl. NW wind at 10-12 kts.
1925 hrs - Contradiction - Mike Schum - Class 2 is fine. Seas 3-5 ft, wind N, 15-18. Nice night.
18 June 1608 - 860 - saw them off from the Dinghy Club. Ocean Sails put a splint around the rudder/tiller interface. And they are back in the hunt; obviously a bit behind.
18 June 1420 - One of my committee members suggested that for the 2017 race we need to add a new requirement to the NOR; scooter proficiency!
860 has pulled into the Dinghy Club. They are trying to get someone to fix there rudder problem. The problem is where the tiller interfaces to the rudder. It has become non solid. Looks like this fix will be a solid metal rod drilled into the rudder. Ocean Sails is helping them.
18 June 1300 - 806 hailed me on VHF to say his fix for the rudder problem didn't work and is coming back in to the Dinghy Club to try to fix it.
18 June 1200 - And they are off. We had wonderful weather for a start. Winds were out of the WNW about 10 knots with the sun shining through. They were able to sail through the cut but of course they lost wind for a period in the cut. 23 boats started. Panacea of course was the only boat to not start. It is on a mooring by the sunken wreck for a couple of months.
17 June 1530 - Just posted Frank Bohlen's Note #4 on the Gulf Stream for tomorrow's start.
17 June 0845 - First rain during the day since I have been here; thunder storm even.
16 June 1830 - Andrew Holmes of Goslings conducted a rum tasting of the various Goslings products. People were also able to purchase rum for taking home. After the rum tasting the Awards for the first leg were held upstairs in the Dinghy Club. Her Honor Mayer Quinell Francis invited the crowd to St. George's and handed out the trophies. Commodore Lacey Jennings also welcomed the group. Susan Oatley was the MC for the evening. Patrick Paley took plenty of photos for us which I will be posting to the gallery later. Afterwards we took several photos of the single handed skippers. And after that we had a wonderful steak fry topped off with a cake that had the 2015 Bermuda One-Two logo on top. It was a very nice and friendly evening.

16 June 1500 - A tour of the Bermuda Radio facility was held. About 8 people attended and were quite impressed. Another tour was held last Friday for those that were leaving before today.
15 June 2200 - Susan and Steve Hollis invited the group to there restaurant Beach House out by Fort St. Catherine for cocktails and a meal. It happens to be the 20th year since Susan & Steve met. They met as a result of the Bermuda One-Two twenty years ago. We finished a wonderful meal under the stars with great company.
15 June 1600 - Not a good past two days for the Bermuda One-Two scooter folks. I fell off mine yesterday morning going to the Blue Hole for the Cave Tour; took a chunk out of my right fore arm. Dan Stadtlander fell off his bike after doing an accidental wheele. They did not suffer any injury. Today Peter and John McCrea crashed on their scooter; hit a guard rail. Peter broke his clavicle bone and John separated his shoulder. They also had road rash on their legs. They are doing fine however there is no way they are sailing back. Peter is hoping to get a long term mooring and fly back for recovery.
15 June 1100 - Patrick Paley led a group of 11 on a tour of the caves, etc. that you can get to from the Blue Hole Park. Several people jumped in the Dolphin training pond as well as swimming in one of the caves. The walk was followed by lunch just up the street at the Swizzle Inn.
14 June 1830 - Dark n'Stormy hour on Goslings followed by the Fish Fry including a DJ were a hit.
13 June 1130 - Patrick Paley conducted a tour of Ft. St. Catherine.

12 June 1530 the final results are posted.
12 June 1222 - Carina withdrew and turned on his motor.
11 June 1900 - Partying officially begins with the night out at the Swizzle Inn. 29 of us participated in, ahh, sampling the Rum Swizzles and we had some food also. Brian Flynn awarded me the trophy of Grand Poobah. The trophy being a gigantic hat with horns. Of course everyone took pictures of me with it on. It was a wonderful evening and it got the skippers out and amongst themselves to get the rest of the stay on the right foot. Tomorrow is a tour of Ft. St. Catherine by our friend Patrick Payle and happy hour at the Dinghy Club.
1 June 1738 Tyche finished.
11 June 1722 - Heard from Carina. Bob said he wants to be at Customs by 1400 so he will decide on turning on the motor during the night. All is well. Has been tacking since the wind has been out of the south.
11 June 1500 - Heard from Tyche. About 10 nm from the finish.
11 June 1000 - The last two boats are still slowly making their way down. With the SE breeze we have at the moment they can't directly make Bermuda so they have to tack thus taking longer. Wind expected to shift to the SW which may help.
10 June 2133 - Tyche email from Pat Turner: "Mac is sailing ok now. About 24 hrs (?) out, the Ray Marine electronics said, "Extreme magnetic disturbance." The chart plotter and autopilot were not working properly. (He has another chart plotter on his iPad.) The Monitor was fine until the wind let up. This morning, he got the autopilot functioning and is sailing better."
From Tyche InReach: "Tyche is about 60 miles out from St. Georges. Hope to finish in the morning."
Carina called in: JHe is still sailing and sounded a bit more upbeat then when I spoke with him last night. He plans on continuing to sail as long as some breeze is there. He reports all is well on-board. He is predicting a Friday ETA. I admire his perseverance!
10 June 1330 - Tentative results for the single handed leg have been posted under "Results".
10 June 1300 - Carina: Laura emailed: "Bob called at 11:18 - he said he had a wonderful night. Winds out of the SSE. But at 05:00, the wind shifted and he couldn't use the Monitor -- too light of air .... so he was manually steering for some time. Not sure, but I think he's back on the Monitor because he said now he's sitting below... The electric autopilot did indeed break, but he got the Monitor going."
10 June 1123 - Nimros finished.
10 June 1056 - Panacea finished.
10 June 0832 - Trifion finished. Trifion's motor won't start. Will have to be towed some after he sails into the harbor.
10 June 0820 - Windswept finished.
10 June 0600 - Well, 6 boats left and they didn't move much. It is unbelievably calm here; Bermuda High. All the boats except for Carina are moving real slow. Carina may be motoring to get here. We should find out soon.
Trifion hailed me on VHF 72. Windswept abeam of him, both drifting but ok.
9 June 2000 - Windswept emailed: With any luck this will be my last check in, at least outbound. I am about 25 nm from kitchen Shoals and moving at about 5 kts. The wind is getting flukey however so I could just drift around out here all night. I will give a shout on VHF 72 when I am about to finish. I see Trifion about five miles off my starboard beam. We seem to be pacing each other. I spoke with Peter on SSB. he reports being about fifty miles out and shares my concern over the wind. Besides that, all is well aboard Panacea. I could really use a chocolate ice cream cone!
Carina email from Laura: "He's sailing again and he said he'd see what tomorrow brings." Depending on the winds or lack of winds Bob my turn his motor on to get to Bermuda. So Bob is fine. Bob called in: "His VHF is OK. He's out in a mill pond at the moment. He is giving some thought to motoring in. I suspect he'll see what happens overnight. I told him I'll be here tomorrow night as long as he still out there."
Nimros called that all was well then 10 minutes later he called and said his motor died. May need a tow in in the morning daylight.
9 June 1825 - 806 finished.
9 June 1719 - Strummer finished.
9 June 1630 - Resolute finished.
9 June 1557 - Kontradiction finished.
9 June 1509 - Bluebird finished.
9 June 1318 - Agressive finished.
9 June 1222 - Halcyon finished.
9 June 1226 - Mirari finished.
9 June 1157 - Pogo Loco finished.
9 June 1136 - Dianthus finished.
9 June 1047 - Team Wichard finished.
9 June 1045 - Scallywag finished.
9 June 1036 - Bluebird emailed: 30 miles from Bermuda. Spinnaker up, still with a nice NE breeze...
9 June 1028 - Heard from Pogo Loco. Should be finishing within a couple of hours I believe.
9 June 1010 - Island Girl finished, first in Class 3. They are coming in continuously!
9 June 1007 - Meridian finished, first in Class 2..
9 June 0936 - Flying Turtle finished.
9 June 0804 - Flight Risk finished!
Eagles Dare emailed: "Thanks for keeping an eye on me Roy and Coast Guard. As you do doubt surmised from the tracker, I made it to Newport last night where Mike was waiting for me. He took the boat up to the J-Boat yard last night."
Windswept emailed: Good Morning, Besides a sunburn in some unusual places, all is well on Windswept. I show about 90 miles to Kitchen shoals. Best guess is for a finish late tonight. Heard from Panacea and Scallywag on SSB. There was no traffic on VHF 72. I have had a boat on my Port hip all night at a distance of about six miles, but was unable to make contact. Panacea reports all is well and expects to finish late tonight or early Wednesday morning. Scallywag reports he is 17 miles from the finish and should finish within four or five hours. At the moment, Windswept is cranking along at 6-7 kts. The wind is ENE at about 15 kts. I am looking forward to a shore breakfast Wednesday morning. do you know if the gang will be making breakfast at the club as they did two years ago?
Team Wichard emailed: No contact with 806 or Pogo Loco, dispite trying multiple times to hail them. I am currently 16nm off the Mills bouy, it is 7:15am Tuesday morning. All is good on board Team Wichard.
Scallywag InReach: "ETA finish 1045 wind permitting"
9 June 0700 - Conversation between Meridian and Cordelia. Meridian broke his goose neck, took the main down and was able to repair the gooseneck during the calm last night and has the main back up.
9 June 0647 - Just saw Samba go by the Dinghy Club so we blew the compressed can horn for him. Tristan returned in kind. Neal Petersen, return crew with Flight Risk, met him then in his rib. Neal volunteered to help dock the boats at Customs and at the Dinghy Club dock. Mark from Bermuda Yacht Services should be here soon in his whaler to help the boats dock.
9 June 0606 - First to finish and first in Class 1. Samba finished after hanging around all night out there with no wind. Took Tristan 6 hours to go 19 nm. Quite the opposite of the majority of the race. All this time the boats behind him were catching up as they still had wind. Quite a few boats out there and close. Looks like Flight Risk came out of no where and should be the next to finish.
8 June 2300 - The wind has died as the boats get closer. They are bunching up. It's becoming a parking lot out there. Samba now projected to 0137 finish which may be optimistic. It is going to be busy here between customs and docking!
8 June 2000 - Islander emailed: Under 70 miles to go. Looking forward to a hot shower and cold rum. Not necessarily in that order. Cordelia lost main halyard so is sailing without main. Flight risk and Meridian somewhere close by speaking with.
Mirari - InReach: "No contact at 7 again. Plenty of wind still here including small squall. If it holds I should finish around 8 am or so. I'm amazed how well Mirari has done. I think the magic stick (aka mizzen) paid off with the wind direction and of course my special bottom paint finish helped!
Windswept - emailed: "no traffic on VHF 72. I did raise Peter on SSB. All is well aboard Panacea. The winds are down to 15 to 20 from the ENE. I have 161 NM to Kitchen Shoals. I am making 6-7 kts. directly for the finish line. If (huge if) all things remain status quo, I should finish late on Tuesday or early Wednesday. Today was a great day. Blue skies, cooperative wind, flying fish, just a little vibration from the center board pennant, etc.
Kontradiction called in. Was able to get his main halyard down with the spinnaker halyard and hooks. Ingenious. So he is now sailing with the old main up. Winds out of the NE at 22 kts. Interesting because the winds predicted here are 5-10 out of the North! He heard from Aggressive who is able to charge up the batteries with the solar panels during the day so she is able to use the autopilot some. He also heard from 806 who has broke one rudder but is sailing ok with one rudder. Bluebird is doing quite fine. Same for Strummer.
Carina called in. Heard no one on VHF, light from the NE. Autopilot is dead however he has a monitor wind vane doing the steering and it is working well (smart).
Pogo Loco - Received a position report from his father. Antoine has been communicating with his father. 33n41.63 065w30.32 course 163 speed 6.6
8 June 1430 - Eagles Dare - looks like Jonathan has some luck. He is making Narragansett Bay with a strong southerly. Hoping he makes it back.
Cordelia called me to tell me about his woes. He tried to go up the mast, got 10 ft and decided against it. Tried to raise the storm trysail but the main is in the way. Each took about 1.5 hours. He is still making 7 kts . He still has about 15 kts out of the east but he is hearing different wind directions from all over the place. Samba has a different wind from him, etc.
Mirari InReach: "Actually died here slightly. I now.have full main, mizzen and 135 up. Still sailing nicely. If it held I could be in before 7am but not holding my breath. I got about 130 to go."
8 June 1000 - Windswept emailed in response to my question about comms with Resolute: "I briefly saw an AIS transmission from Resolute yesterday afternoon. He was about five miles away and moving at about 9 kts in the proper direction . No response on VHF"
Mirari InReach: still more than enough wind here 150 miles out. If it's light coming in I will fish then. I assume many have now finished.
Scallywag email: "Reported in at 6/8/15 0700 on VHF CH 72 and SSB. Nothing heard. All is well."
8 June 0900 - Windswept emailed: "The sun is out, but the wind is down, so I was awakened by the dreaded thrashing of sails. The waves are still large enough to make it a study in frustration to fill the sails with the remaining gentle breeze. Every fifteen minutes or so, the wind picks up enough to get the boat moving. This is it you think, but alas, in a couple of minutes it is back to a rolling boat and slatting sails. To quote Louis on board Strummer the other night "now, remind me why this is fun?" Nothing was heard on the radio, either VHF or SSB. The fleet seems to be spreading out, and most are probably licking their wounds from yesterday. If I can get Windswept up to a respectful trolling speed, I may try my hand at fishing. A good friend set me up with the necessary gear. Frankly, I am a little intimidated by what I might catch!"
8 June 0800 - Winds have definitely lightened up and much nicer going however they will be heading into very light Northerly breeze into Bermuda; downwind in light air, lots of folks don't like that.
Team Wichard emailed: "All is good on board Team Wichard, less than 24 hours to the finish, 160nm to go. I hailed Pogo Loco, I could just make out a response, but could not here what he said. I assume he is ok. Once again, no response from 806."
Island Girl emailed: "Heard from Flight Risk and Cordelia. Cordelia has issues with main halyard and is contemplating going up rig to repair.
Aboard the good ship Island Girl I proved that despite rumors there are no shrimp in this part of the ocean. During an attempted spinnaker set I ended up trawling for 45 minutes. Getting a spinnaker out of the water when you are the only one on the boat is difficult. On the bright side the waves have calmed down enough that I was able to hire a new short order cook after the chef quit yesterday. With promises of an island full of rum the short order cook will be opening Cafe Island Girl any minute now."
Updates from the NYC Duty Desk: Flight Risk called in. Unable to talk to anyone in Class 1 (he is taking up the rear and probably out of reach with them). He reports 22 kts wind. Cordelia broke her main halyard and the main got jammed when trying to take it down. Needs to go aloft to free the main and retrieve the halyard but has to wait for calm conditions.
Kontradiction said he has 26 kts out of NE and lumpy. Couldn't talk to anyone in Class 2. Has talked to Aggressive, Bluebird and 806 (he is ok). Mike said he can only put out one third of his genoa due to the main halyard wrapped around the top of the forestay. He needs to go up also but is waiting for calm. Aggressive is having engine problems; will not run for long thus can't charge batteries. Has turned off AIS and autopilot so she is hand steering thus her position in the fleet.
7 June 2000 - Looks like the winds have lightened up and out of the ENE. Great. Eagles Dare is making good time now heading towards Narragansett Bay!
Windswept: emailed "i brought the tracker up to 97% charge and put it back on the rail. I pushed a few buttons and it showed the tracker to be on. Let me know if you can see it.
The wind and waves are abating some. The wind is down to the high 20's from the ENE. There are still a few large waves that fill the cockpit just often enough for me not to want to spend much time there! The water temperature is about 84 degrees. I show about 327 miles to go to Bermuda, just short of the halfway point.
Mirari - InReach "Kontridiction having mainsail halyard issue. Hopes to sort it out"
806 - InReach "All ok on 806."
Island Girl - email "1900 radio chat. Cordelia and Flight Risk. All good. Either we are really lost or everyone else is. I guess we'll find out in a day or so. Seas reasonable. Wind clocking to ENE and dropping to 18. The water seems like a bath tub compared to 12 hrs ago.
Windswept - emailed: "No contact on either VHF or SSB this evening. Wind speed is down to the middle teens, still ENE. I am back to full genoa, but I am keeping a couple of reefs in the main to avoid any unnecessary heroics in the middle of the night. I don't know if that makes me older, or wiser, or just chicken."
Team Wichard - emailed: "After speaking to Pogo Loco a few times today, I have been unsuccesfull in hailing him this evening. I also tried to reach 806, but had no reply. All is good on board Team Wichard, 240miles from Bermuda. "
Kontradiction - called. Has no main, waiting for calmer conditions to retrieve the halyard. Heard Mirari and Team Wichard trying to hail Pogo Loco.
Carina - Seas calming down, auto pilot issues.
7 June 1600 - I'm in Bermuda and online. Lots of stuff to report. 1st are the email I have received while flying to Bermuda.
Team Wichard - "I managed to make contact with Pogo Loco at 10am. His position is: 36 deg 42.68N 68 deg 11.97W
Antoine, suffered a head injury, and was bleeding. He said he has it under control, but I will call him again in an hour to get an update. He is attempting to restart his tracker."
Cordelia - Gail email "Heard from Roy2 just now. He's fine, but says it's been really rough out there. He thinks the seas are at least 10-15 feet, and he's taking a lot of big waves. He lost a weather cloth and it took the lifeline with it, but otherwise Cordelia is holding her own."
Pogo Loco - Philippe email: "SMS (satellite) from Antoine Lacasse on Pogo Loco : Sunday June 7, 11h47 = 36 degres 30.62' North 68 degres 6.86' West. Bad vocal communication : Was in the boat, one wave more challenging than the other = failed down, hit his head. Managed to stop the bleeding and feeling better now. Has spoken with his father and it seems they're is no concussion. Slowing down and resting for a while. Vernon Hultzer, Team Wichard, is close to him (they see each other). He has taken his spinnaker down and will stay with Antoine as long as necessary."
Island Girl - emailed: "No contact with others. Wave state now breaking on Island Girl. Looking forward to getting past the stream. Onboard the good ship Island Girl the chef quit citing inhumane working conditions. Now looking at menus comprised of various power bars and Gatorade."
Tyche - from InReach: "Tyche is fine but overwhelmed!"
Windswept is back on the map! He charged up the tracker! I can see Resolute's AIS signal five miles ahead."
Mirari - InReach: "I was really hoping to do some fishing" to which I replied "be careful for what you wish for." another text: "Not able to make contact with other racers. I'm ok. I'm not happy that it looks like no light wind from here to the finish. Have had some boat issues but no show stoppers yet."

7 June 0930 - Eagles Dare Mike Piper tells me that he has arranged towing when Jon can get within a certain distance and that he has contacted the CG and watching his progress.
7 June 0800 - I am in the Phili airport so am posting only those I have received emails from. Scallywag emailed: "All is well. Finally heard Windswept on SSB. Finally heard from Dianthus on the VHF this morning. Quite a ride. Team Wichard emailed: " I tried hailing Pogo Loco and 806 this morning. I did not recieve any respose from either. I assuming they are out of range. It was a wid night in the Guf Stream, I hope everyone is safe? All good on board Team Wichard." Windswept emailed: "Nothing heard on VHF 72. Raised Scallywag on SSB. He reports all is well, but that I was the only SSB contact he was able to establish. I am running out of adjectives for the sea conditions! I was awakened this morning by a totally new sensation. It felt as if Windswept was picked up and thrown about twenty feet sideways. I am used to being rolled, or spun around, but this was unique! Of course, I might have still been dreaming, but I was burred by all of the gear that had been in the other bunk. The wind is veering more to the east. Gusts are occasionally hitting 40 Kts. I am well into the stream and hope to be exiting the south wall by nightfall.
I can't wait for them to get out of the Gulf Stream! Of course they are even more so!
Cordelia called in to say that he talked with Meridian who asked for us to pass along to Hillary that the sat phone wasn't working which we did. Carina reports his autopilot has been working.
The following is from the Duty Desk.
Cordelia - "wild and crazy conditions."
Kontradiction - "you've got to love this; now blowing 38-43, down from 48 last night, waves 12-15', mainsail ripped and some damage to life lines. Otherwise OK." He did not have much luck connecting with other boats this morning.
Carina - "windy, messy, sloppy seas, big waves in the gulf, but getting better."

7 June 0530 - Dianthus emailed: "This is some nasty stuff! Seeing 10-12 foot waves in GS. Boat speed 9. Dog higher " Some of them are in the Gulf Stream now.
6 June 2100 - Evidently Nimros called but said "Ok, call you in the morning." That's Doug.
6 June 1800 - Yikes, things are happening out there. First Tyche for some reason looks like he hove to for over an hour but is back heading towards Bermuda (maybe shortening sail). They are getting 30 kts of wind NE so it's lively. Someone tried to get me three times but I heard no voice. Received call from Patrick Mouligne. Tristan on Samba called his father. Eagles Dare has broken his rudder and has switched to the emergency rudder and is now headed towards NJ at about 4 kts. Eagles Dare can't use voice on his sat phone but email works and I have received an email from him. I have contacted the Coast Guard and forwarded Eagles Dare's email to them so the CG is tracking him. Also we are not receiving tracker readings on Windswept and Pogo Loco. I have been receiving emails from Windswept so I will post lat/long from him. I have told Team Wichard to get Pogo Loco's lat/long when he contacts him.
Island Girl emailed "Panacea is dropping main to deal w sea state. Will continue on under jib alone." Also: "Aggressive, Cordelia, dianthus, island girl all ok. Lots of little things. No show stoppers. Wind high 20s with occasional gust to 30. Large quartering waves. If they get any larger they will start to break onto the boat in lieu of against it."
Team Wichard emailed: I as unable to reach 806 & Pogo Loco. All is good on Team Wichard, pretty rough entering the Gulf Stream.
Windswept emailed: Boy, it would be a hell of a trip home from where I am right now! Unless things change, it would undoubtedly take longer to get to Newport than Bermuda.
Today I spent an hour recovering my big red chute from under the boat, put a (small) rip in my mainsail, and was nearly garroted by the main sheet when my jibe preventer broke, resulting in two crash jibes in as many seconds, full main in 30 Kts! My eyeglasses were whipped off my face. I just happened to notice that they went neatly down the companionway hatch. They were completely undamaged! No word from Nimros, but Doug is probably after the case of beer for last in!"
Another email: "Made contact with Tyche via VHF relay courtesy of Carina. All is reported well. Also spoke with Strummer. Louis had recently spoken with Panacea and reports all is well with Peter.
The NE wind has freshened to 30-35 kts in my neck of the woods. There is a confused sea making for a lumpy ride. I am under double reefed main and #4 jib hanked on the inner forestay. I am still hitting nine knots in surges. I am about fifty miles from entering the stream at the meander. The water temperature is up to seventy. Frank was right on the nose with his prognostications. There is a significant right to left set relative to my course.
I am flying to Bermuda Sunday morning and will be out of contact till afternoon.
6 June 0800 - Resolute called in: had a spinnaker wrap as well as Samba. Flight Risk, who warned us about the traps at the Continental Shelf actually hit one (maybe embarrassing John). Wind was down during the night but nice now. Wind down the Rhumb line. Was wet during the night.
Kontradiction had a nice night if not wet. Hearing from lots of boats but not Scallywag. Seas 3-5', wind 15 kts from the North.
Island Girl emailed: "All good. Fleet scattering. A few minor spinnaker issues but all now good. French toast and scrambled eggs for breakfast. Need to eat up before tonight's expected rough conditions." He also texted me: "All good. Able to speak with Aggressive. Bluebird on AIS. Everyone spreading out. Minor spinnaker issue on island girl around 4 am - in the rain. Does the fun ever stop."
Team Wichard emailed: "Pogo Loco and 806 reported in this morning, in good spirits. All is good here, enjoying the building breeze from behind."
Windswept emailed: "Seas are a bit more settled this morning. The wind is NE at about 15 KTS. The water temp. is up to 65 with the air temp about the same. Only communications heard were between Panacea and Strummer. Nothing like a hot shower to freshen ones disposition.
6 June 0500 - Sidney Van Zandt emailed me that Sandy (Shandygaff) retired. "He has had major problems with charging his batteries also with the VHF. He is heading back towards Block Island which is 80 miles to windward. If he gets a more favorable slant he may head for Noank. He sounded fine." His tracker is being left on for the trip home.
5 June 2000 - Resolute was first to call in. Heard from all but Samba and Eagles Dare. Lumpy seas; boats a bit back complaining about the seas but Scott isn't getting sea sick. 15 kts NE. The wind kept backing since the start.
Kontradiction said the seas are 3-5 ft 20 kts(??) NE. Island Girl is on his right. Hearing from a lot of boats and all in his class. He was working on a problem with his furler and when he was done the rest of his class were gone.
Island Girl first called but bad connection. Little while later called back and better but still not very good.13 kts NE. Brian then emailed me that all class 3 boats are fine. Then he texted me as a test.
Team Wichard emailed me that he is in sight of his class. Vernon asked about Frogger so I informed him that Frogger had retired.
Looks like they are in for some wind from behind starting Saturday evening.
Windswept emailed: ""It is cold, lumpy, and bumpy, but I have good vibes about this race! Too rough for much typing. Heard from the following boats on VHF 72. Class 3 (no issues reported), Aggressive, Island Girl, Trifion, Bluebird. Class 4: Panacea is having chicken pie for dinner and asked that I not run into him while he is enjoying it Mirari is moving well Carina had an autopilot issue, but it has been resolved Strummer asked if any one could see his AIS signal, no one could, Shandygaff, Tyche. That is it for now."
5 June 1300 - Frogger called in to say he is retiring. Hopes to come back in 2017.
5 June 1200 - And they are off! Winds about 10 kts out of the SE building towards the end of the sequence. The temperature went down then. Samba, Tristan Mouligne, hit the line first at speed in Class 1 to a cheering crowd in two boats: Rum Runner with about 40 people including his return crew, his brother John Jay, and a huge rib with his father on it, Patrick. Eagles Dare, Jonathan Green, insisted on flying a Code 0 which overpowered him just before Castle Hill with one big round up. Dianthus spotted his class some time being quite a bit late to the line. Just as the sequence started for Class 6 the minis Frogger hailed us that he had to pull out. We found out that the port side back running stay clutch broke. He got the motor started, dropped the main and to Goat Island to fix the problem. Let you know when I hear.
5 June - Frank Bohlen has sent me yesterday's brief and it is posted now. Frank said he will be sending us another brief for the start in Bermuda.
4 June - Thursday afternoon the Skipper's Meeting was held which is the day before the start. Bell Biewenga gave a weather brief and Frank Bohlen gave the Gulf Stream brief. Susan Oatley briefed us on Customs and Docking at the Dinghy Club. It was nice to see Susan involved in the race. The Skipper's Rep gave a brief on entry into St. George's Harbour.
And they are off tomorrow. First start is at 1100 tomorrowq Friday 5 June.
Looks like all the trackers are working and all the boats seem to be in the right place. Ready for the start.,
3 June - Wednesday the 3rd lots of people attended the Skipper's Sendoff Party. Much food and liquor was had. Lots of gabbing was heard. Seems like it was quite a success.
Thursday afternoon the Skipper's Meeting was held which is the day before the start. Bell Biewenga gave a weather brief and Frank Bohlen gave the Gulf Stream brief. Susan Oatley briefed us on Customs and Docking at the Dinghy Club. It was nice to see Susan involved in the race. The Skipper's Rep gave a brief on entry into St. George's Harbour.
And they are off tomorrow. First start is at 1100 Friday 5 June.
Over the past several days we had two more withdrawls: Robin, Douglas Campbell, and Perseverence, John Van Slyke. Sown to 27 boats now.
2 June - The tracker website is up. Obviously the boats aren't moving yet; not till Friday anyways. Dam cold and wet here but looking for nicer weather starting tomorrow, Wednesday.
30 May - Our first boat at the dock at Newport Yacht Club.
30 May - Frank Bohlen has generated a second analysis of the Gulf Stream.