SINGLEHANDED LEG NOTES
13 June - Gosling's provided a taste period of their various rums and sold bottles for duty free service which would be dropped off here tomorrow. Followed the Awards or as they say here Prize Giving. The Mayor the Honorably Quinell Francis, Bermuda Tourism Office representative Daniel Johnson and Commodore Lacy Rance were all present for the Pirze Giving. The trophies were handed out, pictures were taken of all the singlehanded skippers and then we meandered outside to pickup our steaks and ate in the lower level. Finished the evening with music by a DJ on the main level. Nice evening.

12 June - Lay day. Some of us checked out a different restaurant down near St David's, Gombey. Watched the first attempt at an AC race; abandoned due to lack of wind, like zero. Another group went to the Tempest restaurant for the evening meal. This use to be the Carriage House back several years; maybe more.
11 June - Big time rain to about 2pm. Much needed rain for Bermuda. People were watching the AC races when I arrived. Tristan had bought a bunch of sandwich food and hot dogs and was feeding the crowd. For the evening we had an open grill (propane) and a bunch of us cooked their own food, cooking in groups, and ate up on the deck. Afterwards a group went on Mike Schum's boat In Concert, a Saga 409. Nice. People were sharing drinks; wine, scotches, whiskey, etc. Tomorrow is kind of a down day. Nothing scheduled.
10 June - A group of us took a ferry from St. George's to the Dockyard to visit the America's Cup Village and watch the three races held that day; Team Newzland 2 Artemis 1. Later the Dinghy club held a Dark & Stormy party for us and Brenda cooked up a Fish Fry with delicious fish, rice, salad and apple pie desert.
9 June 1700 - The St. George's Dinghy & Sports Club put on a cocktail party where the member provided various foods; pot luck stile. Many thanks to the members for doing that. Also would like to thank Susan who has been doing all kinds of errands for the race. Thanks to Tina for doing errands also. Thanks to John Andersen (Upstart crew) and land crew Fred for their dedicated work in helping boats dock both at the Customs dock and the Dinghy Club and moving boats around at the Town Dock. Thanks to Dan Alanso for providing his big dinghy to ferry people and support docking the boats at the Dinghy Club. Also thanks to Tristan for maning the dinghy a lot and directing boats in docking. Also thanks to the various skipper and crew that have helped docking the boats which isn't easy at the Dinghy Club.
9 June 1300 - both Carina and Strummer came into the harbor. Carina was put rafted outside of In Concert on the wooden dock and Strummer anchored.
9 June 0845 - Carina has withdrawn and is motoring in. Strummer had withdrawn.
8 June - Only two boats left out there; Strummer and Carina due in the morning.
2017 - Corvus reported finishing! Finished faster than it looked like it would take. He was taken under two after finishing and was put on a mooring after going through customs.
Tyche withdrew and is at the main dock.
1901 - Nimros finished. Nimros had to be towed by Tyche because the motor wouldn't start and the genoa wouldn't furl or come down! However the genoa problem was fixed while under tow. After going through customs Nimros was brought along side of Halcyon for the night.
8 June 1940 - Nimros hailed us that he could not furl the genoa nor take it down. This was after finishing.
8 June 1800 - Instead of having our Swizzle party at the Swizzle Inn Brenda, Lacey and their crew put on a meal for us and Brenda's Famous Swizzle on the deck of the St. George's Dinghy & Sport
8 June 1630 - Trouble No Trouble motored by the Dinghy Club and docked at 1740 at the Club.
8 June 1534 - Trouble No Trouble finished.
8 June 1530 - Perseverance arrived at the Dinghy Club dock.
8 June 1400 - Most of the boats that were on moorings, anchored or docked at the town beach moved over to the Dinghy Club for berthing as the winds died down for today.
8 June 1137 - Trouble No Trouble email. A message from Trouble No TRouble. He is good, and will hopefully be here this evening.
8 June 0630 - Winds have calmed down quite a bit. Trouble No Trouble emailed. "Hi guys. I picture you with cold brews in your hands right now. I'm about 12 0 Nm our and anticipate a 4 am arrival if all holds Hope you are well. All is well with me. " He must have read his instruments wrong because at 0600 update he was 27 nm out and he is way east and has to tack to get to Bermuda. At least another 3 hours to his finish.
7 June 2043 - Preliminary results posted.
7 June 2000 - Corvus has a problem with his motor so it isn't running and thus can't charge the batteries. He also was unable to sail for a while. His forestay let loose however he has corrected that to some extent and is sailing under staysail and only moving at less than 2 kts. Nimros is staying with Corvus to keep him company and encouragement to get down to Bermuda where he can be towed in. Bermuda Harbor Radio is also monitoring the scenario.
On another note it has been crazy here with gale force winds at times and trying to find places for the boats to stay. Stern to a the fixed dock isn't an option with these winds so we have a bunch of boats in the marina basin and a bunch down town at the town docks, one on a mooring and a few anchored.
Windswept is approaching the finish line some what soon. No one near after that.
7 June -
1919 - 806 finished.
1659 - Melantho 2 finished.
1457 - In Concert finished.
1445 - Pocket Rocket finished. He lost his controls for the canting keel and called for a tow to the Customs dock.
1437 - Dianthus finished.
1424 - Panacea finished.
1345 Team Wichard finished. Team Wichard was not able to sail into the harbor and required a tow by BYS.
1250?? - Prairie Gold finished.
0823 - Halcyon finished. Very windy here now. We have been very busy trying to get the boats in protected area.
0759 - Solarus finished.
0617 - Concussion finished.
7 June 0630 - Team Wichard emailed me. Trouble No Trouble emailed, said all was good. Brian was more concerned about my keel issue. He said he will be in Bermuda Thursday morning, and all was well. 806 contacted me via email. He was worried about the rough conditions, and the slamming of the boat. He said he saw Pocket Rocket yesterday, who was higher and faster. I spoke to Pocket Rocket via VHF. He is 8nm behind me, and is doing well. All good on Team Wichard. I'm about 27nm from Bermuda. Still keeping a what on my situation. It has gotten only a small bit worse, so it is manageable, with just a small amount of water seeping in. See you around 11am.
806 emailed me. my eta looking like late afternoon today. Last couple of days were tough. Will be glad to get in and start drying out. Tony on 806.
7 June 0617 - Concussion finished.
0530 - Aggressive seems to be missing his propeller! Yankee girl has offered to help him in and is towing Aggressive into the harbor to anchor. All skippers are extremely tired! Boats that have finished since just before midnight are anchored or are preparing to anchor.
0529 - Yankee Girl finished.
0516 - Upstart finished.
0457 - Aggressive finished.
7 June 0416 - Concussion complaining about having to avoid 2 cruise ships keeping him from getting to the finish!
7 June 0354 - Cordelia finished.
0151 - Seriana finished.
0133 - Barcanova finished.
0105 - Gillett Children's Hospital finshed.
0055 - Choucas finished.
6 June 2023 - Breakaway finished and is anchoring in the harbor; wiped.
6 June 1836 - J Hawk finished and is inside at the Dinghy Club.
6 June 1900 - J Hawk called in that he is 2 nm from the finish.
Team Wichard emailed me. I heard from Trouble No Trouble via email. He was hove too for a while, to sleep, as his autopilot, could not handle the conditions. Brian is in good spirits as usual. Pocket Rocket called via VHF. He had trouble with both of his autopilots, but has one of them working again. Says he has had a rough time. Team Wichard is doing well. 108nm to go. My cracked keel box, and keel movement, is a constant concern and focus. I spoke to Dan from Halcyon, we are in constant contact. I should arrive in Bermuda in less than 24 hours.
6 June 1500 - Dragon finished but I don't have his time. He came by us and is waiting to get to customs.
Corvus called this morning. He reported problems with his furling as his furling line broke. He is also having engine problems which limit his charging ability. 26 kts from 220 degrees with a double reefed main and staysail.
6 June 1345 - We now have both Toothface and Inigo Montoya here at the Dinghy Club. Dragon isn't far behind.
Bluebird emailed me. "Winds peaked 30 K at noon today, big rolly seas, lots of crashing and bashing. Bluebird secure with staysail, double reefed main, running back stays. ? 115 mm or so to Bermuda-ready to get there! Still 2K opposing current. No radio or visual contact with any boats."
Prairie Gold email. "Prairie Gold checked in. Heavy wind means he's a quart low on sleep, but the jury-rigged genoa cart is holding and all is well."
Gillett Children's Hospital emailed me. "Not as much fun out here as you may be thinking :)"
6 June 1145 - Team Wichard emailed me. "Just checking in. The crack in my keel box, is a little worse. I'm not taking on water, but I am watching it closely. I have spoken to Dan on Halcyon, we are texting every 30 mins, to stay in touch. Seas and wind are as bad as ever, I'm hoping the forecast is right, that at 4pm, it backs off a bit, and turns more to the west."
6 June 09:39 Toothface - first boat to finish. Came in with full sail fying into the harbor to take down his sails and waited over an hour for customs. Inigo Montoya is the next boat to arrive.
Windswept emailed me. winds SW @ 28-35 kts. I am about 150 miles out. Running with blade jib only into steadily increasing seas. Will be tacking onto Port tack shortly. Hope to finish tomorrow. Had some auto pilot issues which I believe to be resolved. No news from fleet. All is well aboard except that I am running low on meatloaf and chili! This will be my last report unless situations change. I have discovered SSB radio plays hell with my instruments....especially the autopilot."
6 June 0600 - Team Wichard emaild me. "A true battle out here. The conditions are just not getting any easier.
I'm closely watching the crack in the keel. I've made marks, to track it's progression. I heard from Trouble No Trouble via email. He is ok."
Yankee Girl emailed me. "Still pretty punchy out here.Gonna be a long, slow uphill slog to the finish."
6 June 0400 - Team Wichard emailed me. "Just checking in, it's 3:45am.
I have 25-30knots, on the nose. I' m making good headway. The crack in the keel box, has not gotten any worse, which is goods news, but there is still a lot of movement. No water leaking in either. My ETA in Bermuda, should be around noon tomorrow (Wed) I/m 176nm out."
5 June 2000 - Yankee Girl emailed me. I had just informed him that Justin had been picked up by Solarus and fine. "Been a bouncy day out here, even tough on a heavy boat like mine. The waves were steep and choppy because there was 2kts of current headed NW hear and a wind from the west. Wind against current makes it much worse. My laptop with 2/3rd of a working screen appears to be hanging in. Any chance you've heard of good computer repair in bermuda?"
Dragon called in. Doing fine. Talked to J Hawk.
Corvus called in. Fine also. Hadn't talked to anyone.
In Concert called in. Took two hitches to the west which set him back. Wind 14 kts SW with 8-10 ft seas.
Prairie Gold shore crew sent email. "This is Phil's shore crew checking in. His computer died so he can't make direct contact but he has his route plotted on his iPad and nav system. His genoa cart fix is holding and all is well."
5 June 1900 - Team Wichard emailed me. "Brian and Tony checked in via email. They are both doing well. Despite my cracked keel box, all is good."
5 June 1800 - Justin had to abandon Spadefoot and is safe on Solarus. Justin was very worried about the keel falling off. Very lumpy conditions. Solarus had contacted me earlier saying that Justin was worried about his boat so both Concussion and Solarus were shadowing him then Justin decided to abandon the boat and got in his life raft and was picked up by Solarus. Been a tense few hours.
Team Wichard on another note emailed me that he has discovered a crack on his keel box. He is monitoring it and decreasing his speed but continuing to Bermuda since it is the closest place to go and didn't want to chance the Gulf Stream. I informed him of the boats around him. He feels he can make it to Bermuda.
5 June 1730 - Windswept emailed me. "All is well. wind SW @15-25, lumpy seas. no news from fleet. too rough to type!"
5 June 0800 - Team Wichard emailed me. A tough night beating into bumpy seas, and a 1 knots current against me. All well on board Team Wichard. Trouble No Trouble checked in, to say all is well, and beating into choppy seas. I have not been able to hail Pocket Rocket, or 806.
J Hawk emailed me. "Just spoke to Toothface... about 4 mikes away but he was breaking up.., something wrong with one of our radios. Anyway, all good with him and on board here. Be an interesting day of shifting winds. Right now breeze is 200 at 6 knots. I am steering 130, going 4.5."
Dragon called in. 6-10 kts wind from 184.
Cordelia called in. In good shape, wind 15 kts Spoke with Aggressive and Prairie Gold, both doing well. Spoke with Melantho2, doing fine but can only charge batteries on port, so if you see him on a funny tack, that's why.
In Concert called in. wind 14 kts from SW. Overslept a little and is farther east than planned.
Choucas emailed in. "Heard from Spadefoot, Concussion, Breakaway and Solaris (class1). Nothing technical to report
We all reported seeing dolphins, Portuguese man of war and flying fish on deck. We must be all going to Bermuda!
Yankee Girl emailed in. "I haven't heard from my class 4 competitors for a few days but I have spoken to Halcyon yesterday morning and Cordelia the day before that. Friday night, just before sunset, I was downwind of Concussion when a squall rolled through. I watched him get rounded up and thought I'd be able to avoid that by heading off but the gust peaked at 36kts and I rounded up as well and got my share of flogging sails. That's the same squall that damaged Cordelia and Flying Turtle. It made for some dramatic lighting and I got a few good picks from before and after. Looks like it will be an upwind slog to the finish but the boat is sailing well. I did loose my masthead tri-light and my engine driven refrigeration. But the deck level nav lights are working as is the masthead anchor light and I'll just have to suffer through warm beverages for another 2 days. Hopefully I can repair these small issues in Bermuda.
5 June 0615 - Toothface emailed me. "250 upwind battle in light air vs a 43 foot jboat...this outta be fun... Come on big westerly!!"
Prairie Gold emailed me. "At 11:30 pm EDT Sunday 6/4 my port side genoa car disintegrated. I have fashioned a repair with a sturdy snatch block. I will shorten sail to reduce load and am enthusiastic about the repair. I have called Roy by VHF on Cordelia and have apprised him of the situation. I continue to Bermuda. My current position is 36.30N 68.43W. COG 200M, 5.5Kts SOG. I thought I should make you aware. I will continue to monitor."
4 June 2000 - Team Wichard emailed me. "A good day on the race course. Perfect weather and great sailing. Winds on the beam and just forward. Very variable, and a lot of work, to choose the right sail configurations and trim. There is a lot of sea grass. I'm out of the Gulf Stream. I received email from Trouble No Trouble and 806. Both are well, and in good spirits. I was unable to hail Pocket Rocket on VHF this evening.
Choucas emailed me. It was a really chatty evening on the VHF. In class 2, heard from Concussion and Spadefoot but also Solarus and Dragon class 1. Dragon was mentioning that J-Hawk might have some autopilot problem. Talked to InConcert as well and told me his grounding story that actually un-stuck his steering that was jammed. Only Mike can have stories like that! Everybody seems quite happy to be on this side of the stream. It is calm and indeed great to have passed the half way mark."
In Concert called in. Spoke with Dianthus who is fine but has no Sat Phone for contact. Spoke with Halcyon who is fine, winds 10 kts, seas 1-2 ft, maybe 2-4', wind 270 true. Mike was telling Kristen about his adventure with Goat Island to which Kristen said she knew. Then he mentioned Scallywag returning due to autopilot problems to which Kristen said she knew. Mike's response was how did you know those things! :)
Dragon called in. Mike very frustrated. No wind in the morning and now light winds; about 3.5 kts true from 250-80 true. Talked to Solarus who has J Hawk right behind him. He also spoke with Spadefoot who is about 11 miles behind Dragon. Mike says that everyone is saying that the Gulf Stream is no where as strong as predicted.
Breakaway called in. Doing fine. Light winds now, 5 kts out of 280. Small rip in his spinnaker due to a wrap. No contact with any other boats.
Cordelia called in. Roy2 spoke with Aggressive, Prairie Gold, Melantho 2, winds slacking, west 8-10kts, boat speed 2.4 kts, had bacon cheeseburger for dinner. Prairie gold had peanut butter sandwich and Oreos. Now we are into good stuff! RHG
Windswept emailed. You are probably in a silver bird overhead as I write this! As they say, nothing goes to weather like a 737! (and I was in a 737) It was a very interesting day in the GS. There was a mighty right to left current that very nearly set me East of the Rhumb line. With SW winds forecast for the remainder of the race, that is the last place one would want to be. Fortunately, the NW winds hung in there longer than predicted. Even at 6-7 kts. of boat speed, I had to steer 30 to 40 degrees to the right of my intended course. The water in the stream reached 81.5 degrees. It has dropped off to about 75 now, so I believe I am through most of it.
My computer shows about 330 miles remaining, so that puts me at about the halfway point. The mini 806 and I played tag all day. we were never more than a mile and a half apart. I was unable to reach him by radio, but all seems well.
I spoke to Peter via SSB. He had been in touch with Corvus, but was unable to reach any other Class 4 boats.
It is a beautiful night. there is a WSW breeze that is pushing Windswept along at pretty close to hull speed. It is crystal clear and the stars are starting to show. Time for another helping of Diane's famous chili!
4 June 1730 - Baarcanova emailed me. "Barcanova is lonely out here at 36 58 N 068 17 W. I haven't seen or heard from a competitor in over a day except for spotting Solarus on AIS last night. Crossing the Stream was pretty anticlimactic after yesterday's adventures. I saw 16.7 kts of boatspeed and got 15.5 with just a main and staysail. Today has been all light air reaching. Where did everyone go??? Boat is finally cleaned up and I'm getting a bit of rest when the wind steadies out."
Spadefoot - Life onboard is pleasant, so a good time to send a note. Light westerly all day today and bright sunshine. The water is now bright blue as I crossed the Gulf Stream this morning. Great day to dry things out and rest up. Not much rest last night as the waves really kicked up. Yesterday afternoon was good Spadefoot weather, then it got rough and I mostly just tried to keep the boat pointed in the right direction with a double-reef and jib top all night. I can see Dragon on AIS. He is 10.5 directly in front of me. I guess that means I'm Dragon hunting. I heard Concussion and Solarus this morning. They could see each other on AIS, but not me."
Scallywag emailed me on his way back. "I believe I will be going home to Watch Hill unless Ami has some R&R in Newport in mind. Thanks again for everything,
Toothface emailed me. "I just was passed by the 1200 (acording to AIS) foot "Anthem Of The Seas" headed for Bermuda. I'm struggling to do 2 knots and they passed me doing 19 knots dead downwind and into 1.5kts of current. Something to be said for that I guess... All is well. If Im not driving to find boat speed I'm starring at the weather files trying to find wind...so pretty tired but good. I can't quite taste the rum swizzles...but Im thinking about them! I hope all is well across the fleet. Cheers, Tristan from Toothface2.
4 June 0930 - No calls into the Duty Desk. I'm in the Philadelphia Airport.
Scallywag emailed me. "Roy, It is with a heavy heart that I have decided to head home. No luck with repairs and with still a long way to go there would have been too many hours of self steering for this cowboy. Thanks for all that you do for this event. I will miss everyone in Bermuda. Thanks again and my best to everyone at STGD&SC."
Windswept emailed me. "No response on VHF 72. I heard Panacea on 4012, but was unable to make contact as the channel was occupied with other traffic. I just passed Scallywag on a reciprocal course at position 38 19 N, 68 54 W. He reports that he is withdrawing due to autopilot failure. I have reached the outer edge of the GS. The water temperature is now at 70 degrees, up from 61 less than half a mile ago. As I approached the stream last night it was ablaze with lightning illuminating the entire height of the thunder heads. Now that I am here, there is a virtually cloudless blue sky and a 10-12 knt. NW breeze. It is by far the most tranquil that I have ever seen it. I hope it remains that way for the next ninety miles!"
Team Wichard emailed me. "Another cold evening, with some lightning way in the distance in front of us. We are into warmer water and favorable current now, so hopefully the nights will be more comfortable. I spoke to Pocket Rocket this morning, he is doing well. I have not heard from 806 or Trouble No trouble yet today. They must be out of VHF range, but hopefully they will respond to my emails."
But later: "Trouble No Trouble sent me an email this morning. "Good morning. All is well. Looking forward to seeing the other side of the stream.""
Halcyon called my cell phone to tell me Scallywag talked to him and said he was returning home due to both autopilots failing. Halcyon is doing fine.
Seriana emailed me. "Hi Roy, went west so have been outof vhf range. All well with Seriana except Im sitting in no air."
4 June 0800 - Bluebird emailed me. "A quiet night after a turbulent afternoon. Now the sun is shining, the spinnaker is up, and we are making good speed. Should be close to the Gulf Stream- getting 1-1.5K Eastwardly current. Water is not yet warm. No radio contact with other boats since yesterday, and none in sight."
Scallywag emailed me. "I will continue on and hopefully fix one of the autopilots. Once done more sail can be set. I have one of the pilots working, but under reduced sail and will continue this way to make sure it is okay. In daylight, I will let out a little more sail and hopefully make better headway. Hopefully,tomorrow will be a better day. Wind and seas are fine, and otherwise the boat and crew in good shape."
Upstart emailed me. "tough conditions when the front went through but am finaly in the GS and all is well on Upstart"
3 June 2215 - I guess I forgot to explain this. There are three boats that are not racing to Bermuda (not including Flying Turtle) but will race back. Kiwi Spirit is already in Bermuda after his trip from Germany. Inigo Montoya is sailing double handed per their request and is shadowing the fleet. They did not "start" and will not be scored for this leg. Perseverance decided to delay and also sail double handed down to Bermuda and is catching up to the fleet.
3 June 2200 - Flying Turtle - Murray Danforth called me about 2045 from about 10 nms out. He didn't think he was hit by lighting but was real close to it. Anyways it took out his primary auto pilot, main instruments and sat phone. He is using the backup auto pilot and will be pulling into Little Compton where his wife will pick him up.
Choucas emailed me. "We now have 20kts of breeze and clear skies. A bib change from the 30+ kts we had this afternoon.
Only Concussion reported tonight, all is fine with him. Solarus ( class1) is nearby and was trying to contact Dragon."
Scallywag emailed that "Both autopilots packed up. I will need to hand steer to Bermuda. Could be an extra day or two. Don't be concerned by my slow speed. The boat and skipper are fine, but writing messages will be a chore."
3 June 2000 - Barconova emailed me. "I just took a wave at a bad angle and it deployed my jonbuoy. It will be perhaps five miles north of my current position, n 38 35 w 69 11. Accidental deployment. I haven't seen anyone in hours, but the fun started for me at 1500 with 30+ kts with the kite up. It may now be letting up a bit. All's well here otherwise. "
Cordelia called in. Flying Turtle had a system electrical failure due to an electrical storm and decided to head home. He is fine but disappointed. He talked with several boats as he went through the fleet. Cordelia has talked to Prarie Gold and Aggressive. All doing fine. They keep passing one another. They are a group on the west most part of the fleet. Been in wind 25-30 kts out of 303.
Dragon called in. He has talked to Solarus and J Hawk (having auto pilot issues). Currently 15 kts at 303 for wind.
Team Wichard emailed me. I got a txt Trouble N Trouble, Brian is doing fine, entering the Gulf Stream, and remembering how much he loves it! I was not able to reach 806 or Pocket Rocket on VHF. All good on Team Wichard, wet and wild in the Gulf Stream!
Windswept emailed me. "After a quiet start this morning, we have a real lumpy, bumpy, windy, wet afternoon! The wind is from the NW gusting to 30 kts. in my little patch of ocean. A confused sea state makes going on deck a real adventure. I am running with a double reefed main and a blade jib on the inner forestay. I am still hitting 8-1/2 kts at times. The GS entry point is about 70 miles away. I hope the wind is down by then or things will get very interesting.
I received no response on VHF 72. I was able to reach Peter on Panacea via SSB. He is running under jib alone while he sorts out some minor auto pilot issues. Peter was able to contact Carina and reports that all is well.
I did have an interesting encounter a couple of hours ago. I started getting an AIS alarm and discovered Windswept and two large ships were simultaneously passing within 3/4 of a mile of each other! Both the tanker (Alexadros II) and the freighter (Oranjeborg) were operating at reduced speed due to the sea conditions.
3 June 1500 - If you hadn't noticed Flying Turtle is quickly on his way back. My guess is that he lost his auto pilot since his track shows erratic movement before he started heading home. Since he is going into a NW breeze he probably is motoring. Probably be back during the night. No one has reported anything from Flying Turtle other than Choucas seeing him on AIS heading home.
Upstart emailed me. "no contact with anyone in group two but all is well on upstart"
3 June 1130 - Corvus emailed me. "Just completed 120 miles with the chute up since midnight. NW wind at
12-13 kts. with flat seas and good boat speed makes it a pleasant ride!. Temps just breaking 70 but it feels way cooler. Happy to have dodged the worst of the squalls last night."
3 June 0800 - Perseverance left for Bermuda around 2300 last night and is on his way down; showing up on the tracker map.
Cordelia called in. Heard from all except Prairie Gold however Cordelia can see him on AIS. Halycion was complaining that he forgot some food item for his meal! Cordelia took a knock down with a gust to 40 during the night. Other than loosing his wind readings he is fine. About sunset the wind died down to about 8 kts and boats were passing him.
Prairie Gold emaild me. "All is well. I missed the call in session this morning but just spoke to Cordelia. I had a problem with my genny furler that I identified before the squall hit :) A 150% genny in the squall as a handful. But in reality uneventful. Overnight I fixed the problem and all is now well. I now have the kite up trying to catch the others."
Windswept emailed me. "After an invigorating sail yesterday, we now have a following breeze of 3-5 kts. I heard From Panacea this morning on SSB. There was no traffic on VHF 72. Peter has heard from Strummer, Corvus, and Bluebird. All is well."
Bluebird emailed me. "All's well on Bluebird. Off of the Continental Shelf just now, sailing gently under spinnaker in light NW winds. No contact with Class 4- most of class 3 seems to be about."
Choucas emailed me. "it is quite calm at the moment wind at 8kts form 327o. But the cold front passing was interesting, rain, lightning and 25-30kts squalls. One took me by surprise and it took me a while to get Choucas back on track. This morning I heard from Spadefoot, Barcanova, Concussion and Seriana, No problem to report. During the night I saw on the AIS flying turtle sailing slowly in the opposite direction. Could not reach him by radio."
Team Wichard emailed me. "All four mini's checked in this morning. We all had a very cold night, and we're really happy to see the sun this morning. Breeze was very light at time, but has filled in nicely from the NW."
Spadefoot emailed me. "Sending an email as I'm doubtful I'll hear anyone on the VHF. Haven't seen another racer on AIS for several hours. 39-46N 69-57W Heading 152 in about 10-12 out of the north. My wind instruments died yesterday evening when the cold front went through. Makes steering with the kite up and little more difficult without the apparent wind mode, but otherwise not much of a deal. Good thing my mast isn't very tall as I'll be spending a fair bit of time staring at the Windex. The cold front was exciting. Put the A5 up when the wind shifted and then saw 20-35 for about an hour. Top speed was 13.5 knots. A few wipe outs as the wind shifted through 50 degrees at times as the front passed. I made up 2nm on Barcanova in 1 hour. After the front passed, the skies cleared again and I put up the A2. It's been up all night in some pretty moderate winds. Winds increasing a little now as the sun is coming up. Waves are small. It's pretty comfortable. Wind is more northerly than I expected, so I've gybed to port and I'm pretty close to the rhumbline."
Barconova emailed me a rather long one. "...Somewhere during the sail change, Upstart disappeared over the horizon behind me, though the little 28 footer from Austin, Justin Wolfe in Spadefoot, snuck by me. Good times so far! Hopefully I'll have a day of glorious wind before the high moves in and things glass up. I've just crossed the rhumbline again heading back west anticipating a big southerly shift in a couple days time. Yee haw!"
Toothface emailed me. "All is well on board. Beautiful sunrise and morning. A little dissaponted with how i sailed last night but going well now. Light and fluky last night. Not Class 40 weather. Clay is about 6 miles to weather of me and obviously sailing well. I need to turn it up a notch..."
J Hawk emailed me. "No luck on radio comms this morning. All good here. Spin up, sailing in 10knot breeze from 325m."
2 June 2000 - Cordelia called in. In 20 kts WSW. Heard from all except Agressive however he can see Agressive on AIS.
Dragon called in with light winds but as we were talking the winds suddenly built and had to go topsides. Heard from Tootface, J Hawk, Solarus. Haven't heard from Flying Turtle nor Inigo Montoya however Dragon can physically see Inigo Montoya.
Choucas emailed me. Has heard from Breakaway, Upstart and Seriana.
Upstart emailed me that they are fine.
Team Wichard emailed me. All good on Team Wichard. Thunderstorms this evening, with a rainbow at sunset.
I spoke to Pocket Rocket, and all is good.
I also spoke to 806, all is good on board there to.
I emailed with Trouble No Trouble a little earlier, he is comfortable and happy.
2 June noon - And they are off. The wind started off around 10kts southerly and built into the standard SW before they were all off. Nice sunny day. Michael Schum gave us some excitement when he lost his steering for a while. Fixed it and on he went. 34 boats started with one shadowing the fleet, Inigo Montoya. In Concert lost his steering prestart but was able to fix it and is racing (late start). He came damn close to Goat Island. Aggressive was quite a bit late to the start coming down wind to get to the starting line. Perseverance is planning on leaving late to deliver the boat to Bermuda for the race back.
The ybTracking app Races is now working and free!
1 June 1400 - Skipper's Meeting was held with around 45 people in attendance. Frank Bohlen gave an update on the Gulf Stream then Ken Campbell of Commander's Weather gave a forecast for the trip down to Bermuda. We had a surprise visit by Juan Perez from Virginia at the meeting. Juan had done the first 15 races and was sea sick for the first day on each race! After the meeting Doug Shearer showed up in characteristic late fashion.
1 June -- The tracker site will not be available until I send the tracker number to boat cross reference (some boats haven't collected their trackers yet) so the boats shouldn't show up until tonight sometime.
30 May - Stanley Paris on Kiwi Spirit 2 has arrived in Bermuda safely however much work is needed to be done on the boat.
25 May - Frank Bohlen has provided the second Gulf Stream Brief leading up to the start 2 June.
30 April - The calendar now includes the Social activites.
26 April - Frank Bohlen, our Gulf Stream expert, is offering a course on the Gulf on 13 May. See the brochure.
Potentioal 2017 skippers: The following people have stated that they expect to race in 2017: Dan Alonso, Murray Beach, Clay Burkhalter on J Hawk a J/133 (his uncle Rod Johnstone return crew), Jack Clayton on Melantho 2 a Cal 33-2, Marcus Cochran on a mini 547, Murray Danforth, Brian Gray on his mini Trouble No Trouble, Bob Green, Roy Greenwald, Peter Haydon, Philip Haydon on his Catalina 350 Prairie Gold, Mike Hebert on his C&C 1221 Pointe Blank and return crew Marcos Tonndorf, Michael Hennessey (are the Class 40s back?), Vernon Hultzer on his mini Team Wichard, Eric Johnson, Gerry Leger, Tony Leigh on his mini 806, James Linsley on Convergence, Rick McCally, Peter McCrea, Louis Meyer, Michael Millard, Rob Mills on Jay Sharkey's mini, Tristan Mouligne on a Class 40 Tooth Face and Mike Dreese return crew, Stanley Paris on his newe 53 footer, Ray Renaud, Rick Rohrer on Rocinante a J/109, Michael Schum on his new to him boat In Concert a Saga 409, Roger Shepley on his Omega 42 SV Seriana, Dan Stadtlander, Noel Sterett on his J/130 Solarus, Gust Stringos, David Tabor, Chris Terajewicz on his Morris Justine (another one) Corvus, Mac Turner, John Van Slyke, Sandy Van Zandt, Frédéric Waniart on SUPER ARLEQUIN 29 MOD RFA Maeva.
Successful Qualifiers: Roger Shepley on SV Seriana an Omega 42, Chris Terajewicz on Corvus a Morris Justine 36, Mike Hebert on Pointe Blank a C&C 121, Rick Rohrer on Rocinante a J/109, Philip Haydon on his Catalina 350 Prairie Gold, Paul Grimes on Breakaway a J35, Clay Burkhalter on a J/133 J Hawk, Justin Wolfe on Spadefoot, Jason Seibert on Concussion, Stephen Gay on Barcanova a Sun Fast 3200, Marcus Cochran on Pocket Rocket, Tristan Mouligne on Toothface 2.
12 March - Pictures from teh 4 March Forum/Shore Party are now displyed in the Photo Gallery for 2017.
4 March - 40 people participated in the Skipper's Forum/Shore Party. Several people that haven't registered yet said they plan on registering real soon now. Frank Bohlen gave a wonderful brief on the Gulf Stream and stressed the importance of starting to look at the stream at least in May and maybe even April. Frank will again provide me a list of links to evaluate the Gulf Stream and I will post it. I gave info with respect to the race. At the moment we have 27 boats registered and of them 5 are family boats and 12 are new skippers! Wonderful food was again provided by Caryn Cummings with support from Jody Sullivan and Donna Bouressa. I will post pictures in the Photo Gallery from Bill Shea who was taking pictures during the event.
4 February - The March newsletter is now posted.
2 January - Registration is now available online in the menu area on the left. And the applications start coming in. Three signed up today; two new and one returnee!
2 0 1 7 2 0 1 7 2 0 1 7
25 December - Stu Heywood passes at 81 on this date.
25 November - The Notice of Race and Calendar have been posted. Registration opens 1 January.
15 November - About 70 people participated in the Skippers' Forum/Reunion/Gam! It was truly wonderful to see all come out; see faces we haven't seen in a while. People came as far away as Wyoming, Maine, Connecticut, Annapolis, DC, New York. Skipper's Representative Tristan Mouligne led the introductions but due to the volume of people we only had those planning on doing the race next year introduce themselves. Names that were not included above have been added. Will Keene from Edson gave a talk on boat offshore preparation. Joe Cooper was present for Hood and gave his 90 second talk (both Edson and Hood are some of our sponsors). I discussed some specifics for the race: Online Registraion goes online 1 January, 4 March is the next Skippers' Forum/Party. For the NOR which hopefully comes out at the end of November the following changes have been made: ISAF OSR changed to US SER, an electric flare has been developed and will be allowed and the inflatable Dan Buoy is approved to replace the MOM. We are working on replacing some of the perpetual trophies due to wear. After this we spent a couple of hours gabbing, eating and drinking. A well attended reunion. See pictures of the event by Bill Shea.
3 October - The October Newsletter is now posted.
1 August - Derek Hatfield, a Canadian skipper who raced in the 1995 Bermuda One-Two, has passed away at the end of July.
31 July - Both the Offshore 160 and New England Solo/Twin races have been held with several past B12 skippers participating and several potential new B12 skippers participating. Seven boats raced in the Offshore 160 with 5 finishing. 27 boats started the New England Solo/Twin and 20 finished. Go to Offshore to see results and notes.
18 February - The 2016 March Newsletter is now posted.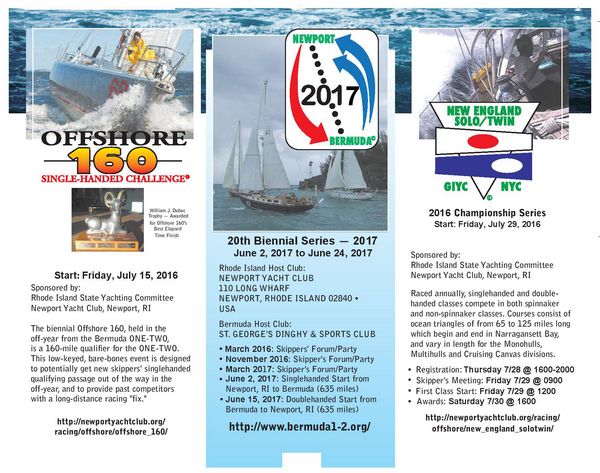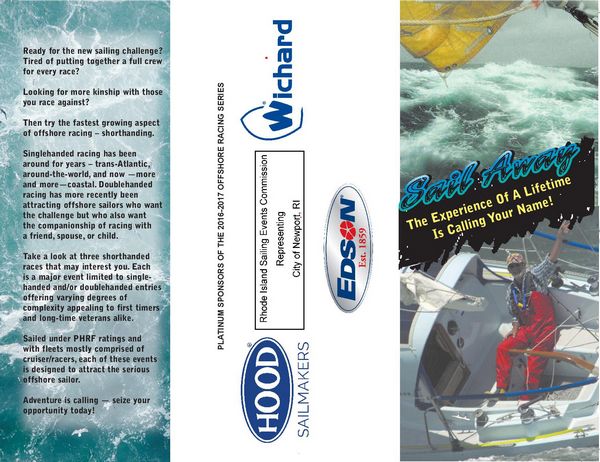 2 0 1 6 2 0 1 6 2 0 1 6
7 November - The Skippers' Party was held at the Newport Yacht Club. Joe Harris had a send off party at his boat expecting to leave on a around the world record attempt later this week. Several people went to both events. We had about 30 people attend; lost count because people kept coming in during Michael Hennessy's brief. Michael briefed us on his preparation for the transatlantic race and during the race which was very interesting. Michael Dreese was also present and was able to provide other insight since he also raced in that race. Afterwards we had plenty of food by Caryn Cummings and Jody Sullivan.
14 October - The October newsletter was emailed out today and is posted in the website.
14 July - Announcing the dates for the 2017 Bermuda One-Two Race. The single handed leg to Bermuda will be 2 June 2017 and the return double handed leg will be on 15 June.